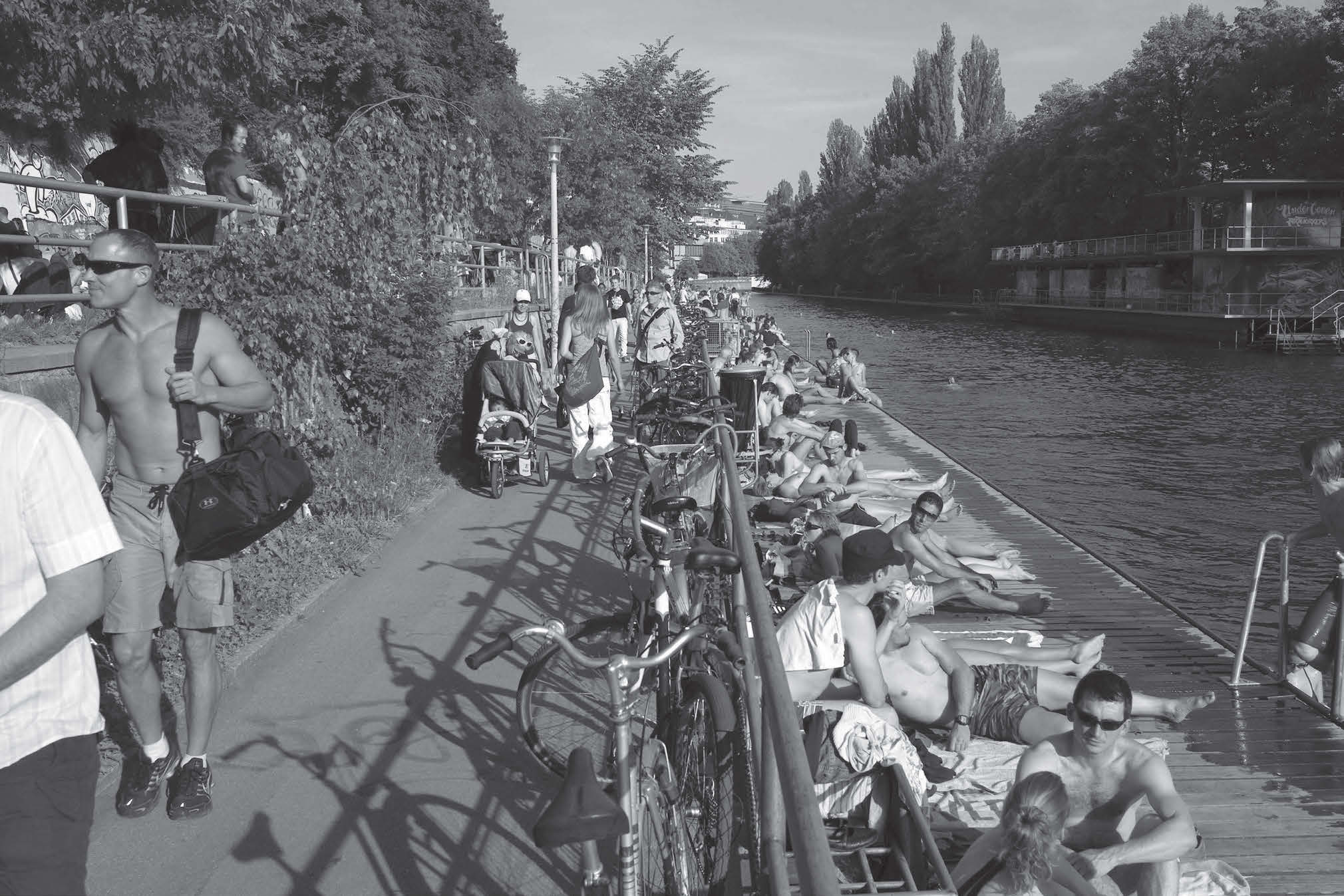 Crowd scene on the Oberer Letten of the Limmat Canal in Zurich. ©Christophe Girot
Kerb: Between Atelier Girot and the Eidgenössische Technische Hochschule (ETH) and your writing, you engage in practice, teaching and landscape theory. How do you think they impact each other, and what importance is there in operating across more than one area?
Christophe: I always had a toe both in the real physical world and in teaching – I think they feed off each other. I spent ten years at Versailles, where it was formally forbidden to have an office and teach at the same time. When I arrived at the ETH in Zurich, they said, 'You have to have an office if you're going to teach.' I think it's really the combination between the two that works, and then writing in addition is something that takes a huge amount of time. You probably all know that, since you're writing it's like wine decanting. It's something that just goes on, and on, and on, you know. It actually takes time to say things when you write. There's less writing effort in the office than in teaching.
The three things really overlap. I tend to find the situation difficult in practice right now because I'm not sure that the jobs are of the right dimension addressing the right question. That sounds a bit strange, but what I'm saying is that your run-of-the-mill office here in Europe, even a small office, has to run about ten times as many projects as an architecture office just to make ends meet. This basically means we don't have time to reflect as we should, so, a lot of the work we do in practice is unreflected, a little bit flashy, quick and dirty. I'd much rather just be working on three projects thoroughly and really thinking about what I'm doing instead.
It's a big problem in practice because we've confused different levels of competence in our field. We're now trying to save the planet every day, but at the same time that's not what the whole history of landscape tells us. The history of landscape is about trying and making us dream that we are eternal and beautiful and happy. You know what I'm mean? We once made super places, then all of a sudden we're hugging koalas and climbing back on trees. We've flipped roles, and I'm still trying to figure out what that means. I'm not saying I have the answer, I'm just saying, let's just be a little bit careful of the way we are heading. Just look at Melbourne. You have these huge flooding problems. There's this discussion about protecting the Prince Albert Sound in Canada. We should be at the forefront of these big projects and we're at the back. That's what's getting me a little angry, because I think that we should be in the front and we're at the back. I see teaching – or, at least, school as a platform– informing the client, informing the politic, informing the decision-makers, informing the younger generations about the potential for a reinvention of landscape. Let's try and think – not just big. Let's really think about what we're doing and what our role in society is.
Kerb: What is immanent landscape and how did you arrive at this idea of immanence?
Christophe: Immanence is a word that has always been recurrent in the field of philosophy. It's really about understanding how to be and act in the present, to retrieve a quality with the tools that we have at hand. It is also about a place and the ideals it can come to bear. Immanence is not a really graspable term; it's about how a human feels, and that's why, in HDM 36, I write about the significance of our mortality and how this connects with this feeling. So you ask yourself what's essential. Is it essential to save the planet twenty-four hours a day? Or is it essential to recover under a tree, have an epiphany, and just smell something really powerful that transforms your wellbeing? Immanence is about super simple things that really matter.
Kerb: So it's something that's built over time, and just coming to the fore now?
Christophe: Well, if I can give you an example. Trees haven't changed much over the last six thousand years. A tree has a stump and leaves. Taking a nap under the dappled light of a tree, or making love under it, or eating an apple or reading, or whatever you do under a tree hasn't changed fundamentally in the last six thousand years. What's changed is where you put the bloody tree. The problem we have right now is people put trees in the oddest places across cities, and you simply don't have that special relationship with the tree anymore. I'm not saying we should all go out and hug a tree. What I say, simply, is that we have a palette of things that really matter, and it's not that big. We're not here to reinvent the wheel. Immanence is about focusing on something plain, like planting a tree, and being confident that wherever you plant will serve generations to come and really holds its place, meaning and purpose.
Kerb: Do you feel comfortable being this sort of preacher? We mean that in the nicest possible way. It's great to have somebody engaged in education, theory and practice. Do you feel comfortable being this person that's out there, shouting about the discipline?
Christophe: I'm not shouting at all; I just don't think we're a discipline yet. I do think that we should become one, but we lack discipline and method. That's the problem. When you see how they did landscapes in these nineteenth-century cities – I cite those examples not for historic reasons, but because they took over a whole city and integrated it as a system. It was done in a very smart way and created places that still show that quality today.
We are not trying to save the planet nor mankind, but our discipline deserves much better people than ourselves. It deserves much more attention and it has far more potential than architecture with its window details and latest façades. Our discipline has a huge potential that is largely untapped and, right now, projects that we should have are given to general contractors and huge engineering firms. What are we doing about this situation? I'm not complaining, but we need to sharpen these tools of topology. I talk about topology because there's the desire to bring a sort of control back, this knowledge back, with a good knowledge of the tools. We really need to work on those basic skills and tools. In Switzerland, we're developing these landscape tools and we're training people to think big and to be physical. We're learning how to massage the planet in the right way. We're learning how to move and model terrain, going back to the basics of what landscape was always about – boring huge clearings in the forest, which were dark, wet, unpleasant places. These big clearings became places for big parties and to bury and venerate your dead. We've always shaped the world around us.
Kerb: Do you imagine that, if we're guided by these principles of creating immanent landscapes, ultimately these ideas of ecology and sustainability will just be incorporated into landscape architecture? Will it eventually be assumed that that those ideas are, in fact, something landscape architects take into account in their daily practice?
Christophe: Ah, that's a difficult question you're asking there. I do these big lectures, and one day I asked a really stupid question: 'Who in this room is against ecology?' Not one out of three hundred raised their hand. I said, 'You know what, in the Middle Ages, if I'd have asked you, "Who doesn't believe in God?" we would have been roughly in the same situation.' What's really strange with this ecological stuff that's going on is that we all abide. We all confess our humanity. But we're fundamentally not ecological beings. Did you all come by bicycle today? I can bet that none of you ate local vegetables grown on your own roof and went fishing last night for your dinner. And you probably didn't eat Australian plants, too – I mean, God forbid, no potatoes from South America. We're in a very hypocritical system. We're in a system that's preaching something that's impossible. So, coming back to that question of immanence, I think that if everybody could have an epiphany and get back in touch with a just sentiment of place, then things are okay; I think we'd make huge progress. This whole approach to biomass and to 'ecomass' has absolutely no relationship to the poetics of life and what we really are and strive for. It's all about quantity, it's about systems, and nature, as Bruno Latour puts; it has only been ruled and defined by scientific criteria over the last twenty-five or thirty years. It's purely statistical. This explains how come we're no longer able to create environments where people just feel okay.
Kerb: Do you think that there are parts of landscape architecture that are on track, that are heading in this direction in some way, or is the discipline totally floundering?
Christophe: The discipline is not floundering. There are a lot of people trying to do things with great effort, and you see that by the student numbers. China had just three landscape schools about twenty years ago. They have about fifty or sixty now. They're paying the landscape architects more than the architects and urban designers, so everybody is rushing for a degree in landscape. They have offices with seven hundred people, eight hundred people – I mean, it's just phenomenal what's going on. The scale at which they're working is interesting, and I don't know why our democracies are unable to put this as a priority, too.
Kerb: For the Sigirino Mound by Atelier Girot, do you anticipate that spaces will be there for the people of this neighbouring village? Do you anticipate that there will be immanence?
Christophe: I fought for that! The environmentalists didn't want a single human being on that mountain. I said, 'Why not?' They said, 'Because it's nature,' with a big N, and I said, 'Are you nuts?' Lugano is in the biggest town in south Switzerland and they said we 'shouldn't allow any human beings there; it's nature'. So I asked them what they mean by 'it's nature'. It's a slagheap with a couple of plants on it! Whether it reaches immance will require some time to tell.
All this stuff, this sort of repressive nature advocacy, is just completely absurd, you know. The problem is, we've given the upper hand to the scientists, and the scientists have decreed, 'There's no beauty, there's no aesthetics, there's just systems thinking, biodiversity and plant lists.' But it always comes down to aesthetics because, when you're designing, or making something, it ends up looking like what it is, and if the person who made it tells you that there's no aesthetics, there is reason to worry.
It's completely crazy, because nature is a construct like any other. It's a human construct. All these guys that have white jackets and glasses that come in and raise their scientific finger, they're just making this stuff up, and we're all gobbling it up because we've given them the priesthood. But we should be the high priests of the landscape. We should be saying that a tree should be there, even if it's not a native tree; it smells so incredible that you get transported. That's what I'm trying to say about immanence: you should go back to fundamental human values, not just ready-made scientific solutions.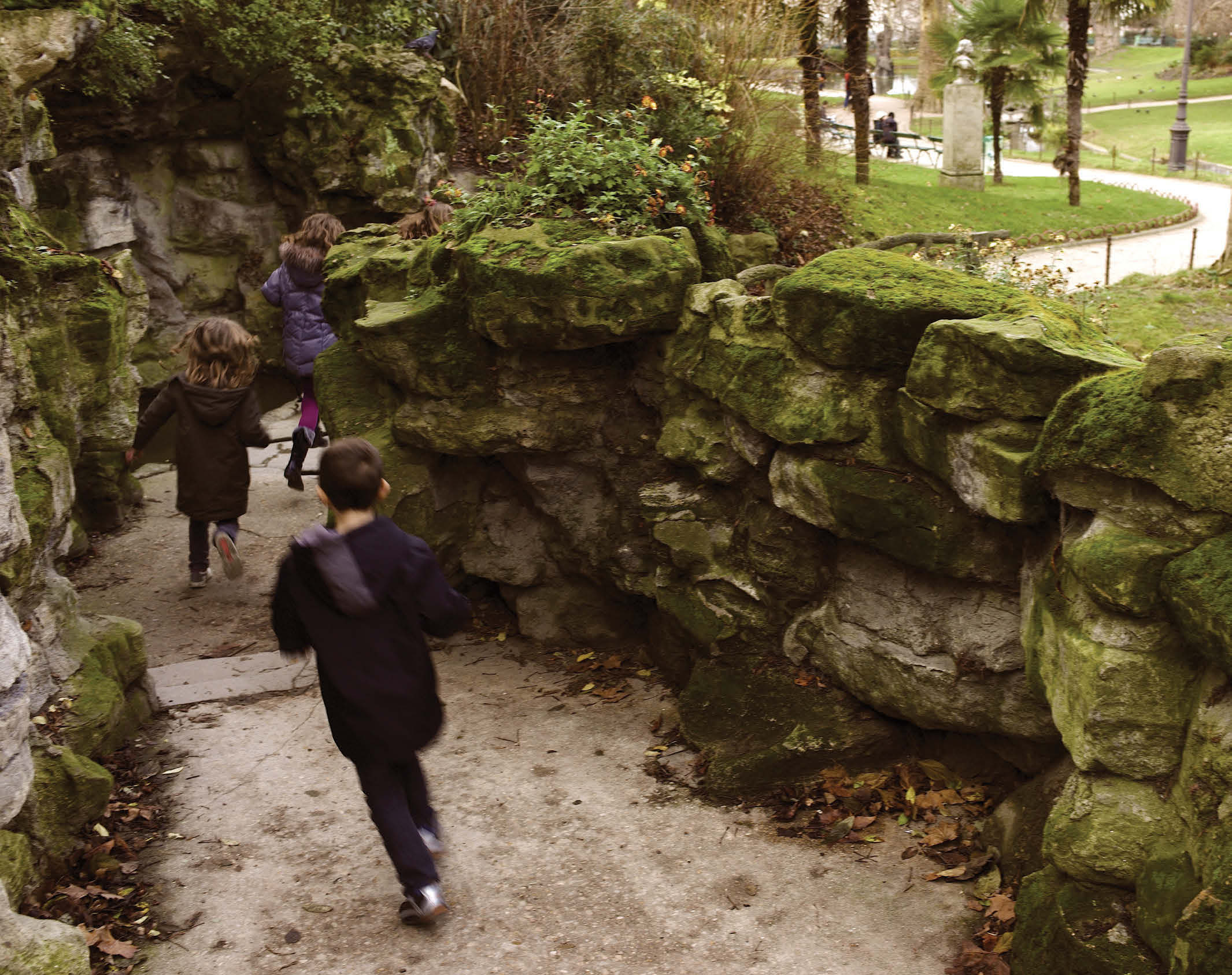 Kids running down an alley in the Parc des Batignolles in Paris. ©Christophe Girot
Kerb: Who do you think will drive this new value system? Where will it come from? Landscape architects?
Christophe: Well, if it doesn't come from landscape architects, it won't happen. Look at Roberto Burle Marx, the Brazilian guy who did these funny psychedelic gardens in the fifties. The most famous beaches in the whole of Brazil – Copacabana and Ipanema – they're artificially made beaches designed by this landscape architect over about ten or fifteen kilometres. They brought in the sand, they made everything. He made a site that's world-famous now and created those spaces from scratch. But the problem today is, we don't have the proper tools. We're not taught to work at this scale of design or gestalt anymore.
Kerb: Gestalt?
Christophe: Yeah, gestalt – the rightful making and shaping of things. We're not taught how to shape things in the landscape. Gestalt is an old German word that came into English through the Bauhaus. How do you teach the 'making of' or 'shaping of' a landscape? How do you teach proper thinking through scales? We should go back to those fundamentals – I can't find any reason not to.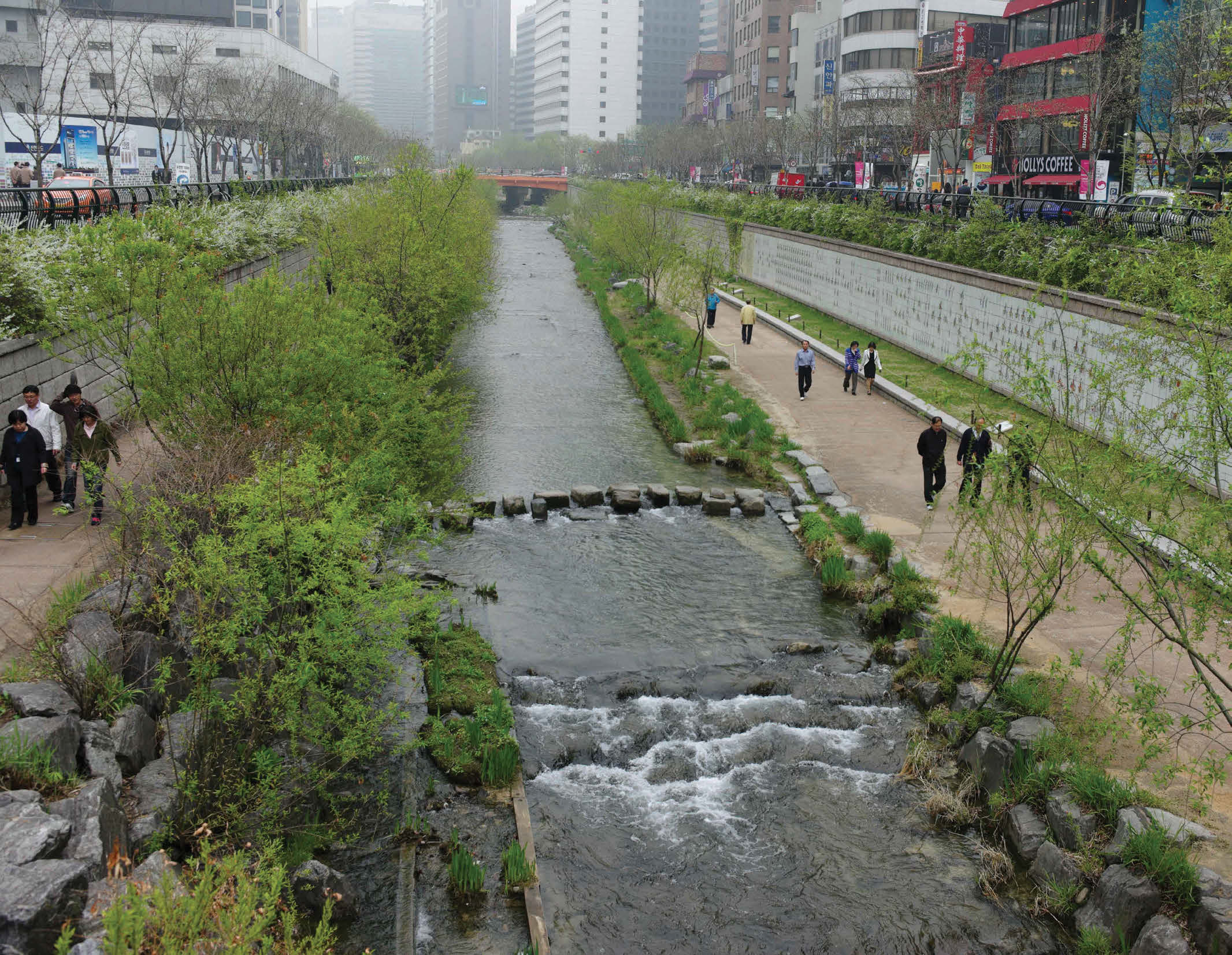 The Cheonggyecheon River park in Seoul. ©Christophe Girot
Kerb: Given that we've lost touch with operating at these wider scales, do you think new technologies (such as 3-D modelling and GIS surveys) are tools that are going to help us get back into it?
Absolutely. Right now, I'm writing about topology. It's going to create a conceptual revolution in landscape architecture. I mean, whoever gets into this third dimension is going to be able to change things and make a difference. What's lacking in our profession is the ambition and the will to step into that dimension.
The revolution in the last ten years is that GIS is becoming truly physical. The landscape is becoming a body again, it's becoming a terrain. With point clouds and the techniques we're developing, engineers call us up and say, 'How are we landing here?' We are telling them how many cubic metres they have left and where it's going to land. We're in control of the shaping of things. They're no longer in control of the digital chain. Because they don't have those 'gestalt skills'. And what's amazing is that you don't have to be Einstein to use these tools nowadays. You just have to feel physical. I think the big problem we have in our profession is that very few of us are truly physical in the full sense of the word. No-one's ready to give the earth a good massage and really understand how things are done. We're all a bit superficial, a little photo-collage.
Kerb: It sounds like you'd like people to get their hands dirty.
Christophe: Yeah, gritty. I like the grit. The word dirty makes me think of something smelly. Grit is not really smelly; it's just gritty. It goes right under your nails.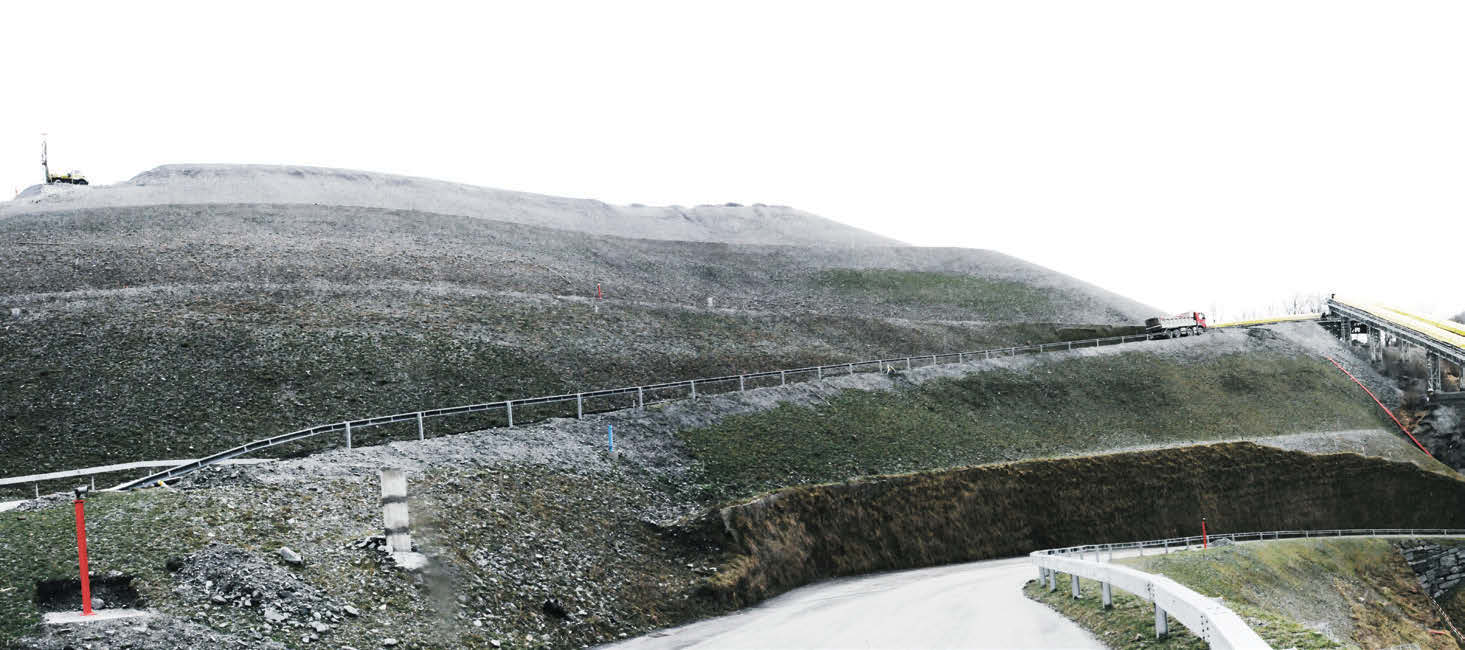 Constructing the topology of the Sigirino Deposit. ©Atelier Girot
Kerb: You've spoken a lot about how you were taught. Now you're a teacher, do you think we're going to be okay? What do you see for the future of landscape practice?
Christophe: I think that landscape is the profession of the future. When you see the success of the Highline in New York, it's reality – it's just a tiny strip of urban green with a certain style. It shows how thirsty for nature people really are: they are yearning, they're on their knees. They drink that stuff up, like milk. Our profession is about bringing back immanence to any given piece of the city. I've known Jim [James Corner] for twenty-five years and he's been instrumental in this whole urban landscape endeavour. But take the example of Seoul, with its fake new river, the Cheonggyecheon, and its promenade. It shows how people are absolutely starving for immanence – that is to say, I enter this landscape element in the city where all of a sudden the bird lands on the twig and the rosebud unfolds as I walk by …
We're not able to hold the scale of operations. The project in Seoul is about eight kilometres long. The mayor at the time just knocked out a whole motorway to do so! That's radical immanence.
Kerb: Do you think that, in places like the Highline or in the case of the Letten river in Zurich, they set out to design immanent spaces? What might the design methodologies look like? How do you know that you're designing immanence?
Christophe: The case in Zurich with the Upper Letten is unique because there existed, really, a heroin scene along 'Needle Park'. The water was polluted, young people died there of overdose, it was a place of dejection. The Swiss cleaned up the water, the river water became better, and some young groups started squatting at the banks, not to shoot up heroin but just to have a bit of food and booze and skinny dip at night. Then it just took over the whole place. It's an amazing social phenomenon. There was no budget for that place; it was sparsely designed. What changed the quality of the place was the environmental and social context. The water became clean and the people became clean, so to speak. I find the Letten amazing, in terms of costs and stylistics, as it is the polar opposite of the Highline. If you look at the elaborate stylistics of the Highline, it's in fact imitating a spontaneous ecological railyard in New York with very expensive detailing. Yet what matters, and the reason people go to the Highline and to the Letten, is that they reach immanence – when they come out, they're happy. That's what really matters.
I think landscape architecture has suffered from a long period of isolation because it was always convinced that it was right, and that it had all the answers. Landscape didn't need the bad architects, but a few of us called ourselves artists and that was about it. This got us into trouble because we're not artists. We should recognise good artists; we should work with good artists, but we should not call ourselves artists. We're landscape architects, or else, if we are artists, then we should go to art school. I think you shouldn't mix everything up. An architect will never tell you he's an artist. I'm an ecologist but I'm also a landscape architect, and we can't confuse these two realms.
I'm saying, let's go back to our fundamental skills – and I can name them. The tools, they're about making things, you know. I mean it in earnest. I really have great faith in this discipline. I think there is a discipline; I just think we need to become disciplinary, in the sense that we need to recognise our tools and our goals. We can't just babble generally about planetary destiny. I mean, we're dead, we don't exist if we do that. We have to go back to a craft and a skill.