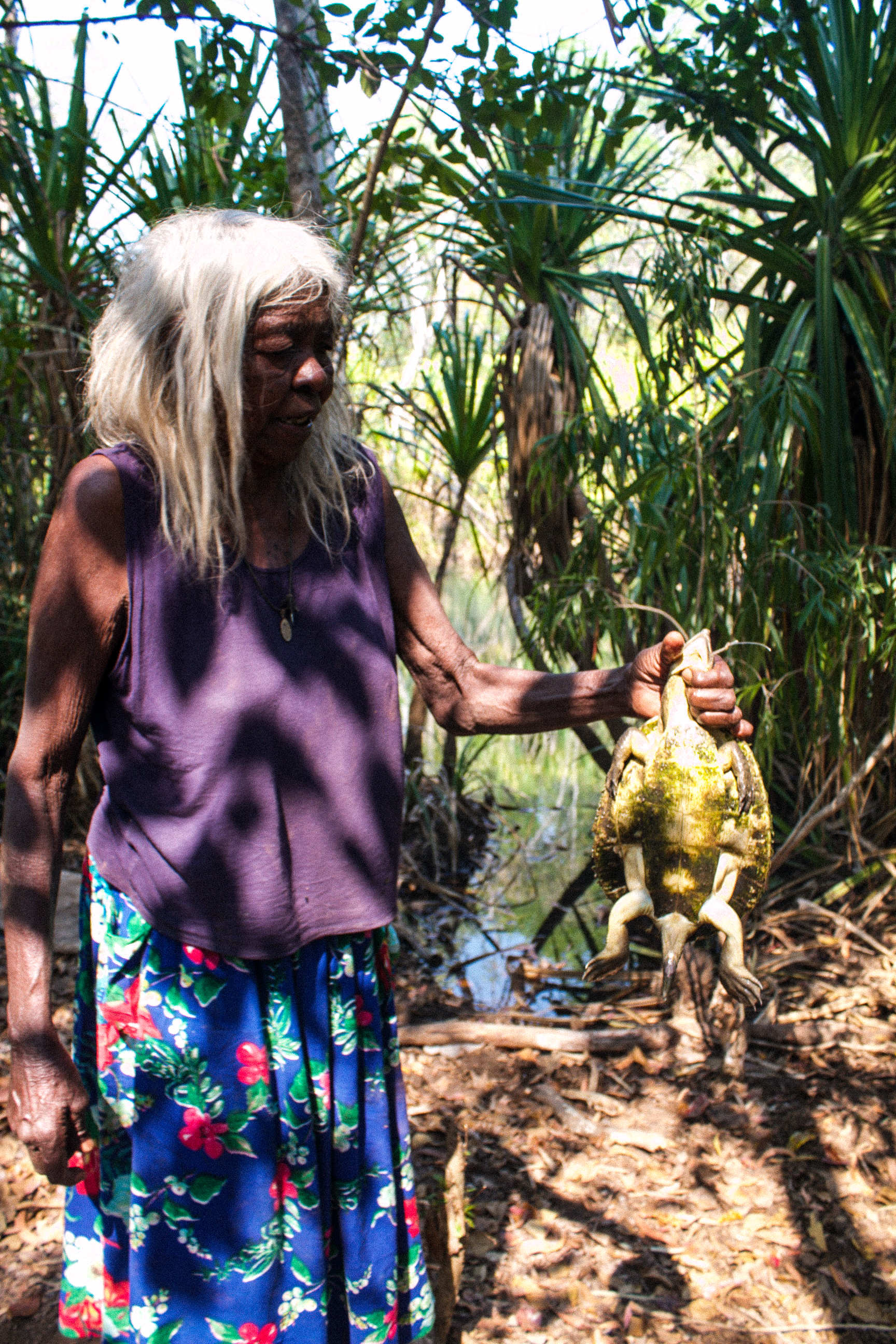 Suzanne Nurra holds Atyindirrity (Turtle). Photo Credit: Jesika Ellul & Charlotte Mellis
Labarganyan Country (Labu) is situated in the biodiverse Daly River region of the Northern Territory. Ngan'gikurunggurr and Ngen'giwumirri are languages of the area, the former translating to 'the language from the middle of the water'.1 Deeply embedded in Ngan'gi culture, it was here where Bewilder, a firm existing to equip female leaders across remote Asia Pacific to protect habitats of wild significance partnered with the recognised Traditional Custodians of Labarganya. The Wungeniwurr Culture Centre was established in 2018, and the partnership has temporarily transitioned to a virtualised collaboration as the COVID-19 pandemic catalysed the strict closure of Nauiyu, alienating the community from Country amid the crisis.
The entanglement of Spirit and Country in Ngan'gi culture is reminiscent of the physical and emotional mutualism that the community's resilience depends upon. This interdependence of wellness and place becomes apparent as people are displaced from their homelands during times of crisis. The colonial subjugation of a people by denying them access to land and traditional medicine is a response that disengages cultural preparedness and exacerbates vulnerability. In the field of psychoneuroimmunology, research has established that emotional stress is intrinsically linked to a decrease in immune functioning and worsened health outcomes in people suffering from a respiratory illness.2 This relationship is further elucidated by research concluding that communities fostering a sense of autonomy and self-determinism statistically have lower rates of inflammatory diseases, such as type 2 diabetes.3
With humans at the epicentre of a crisis, is what we are experiencing a crisis of form? The European Enlightenment constructed the narrative of the West as an elitist monoculture, centralising knowing and control. The domination of humans by other humans birthed the concept that humans are separate to and also hold dominance over nonhumans.4 This illusory domination over the natural world has precipitated a biotic crisis of extinction amongst Earth's biodiversity; our most valuable yet underappreciated resource.5 As current frameworks within crisis management such as 'conserve' and 'retreat' deny symbiosis as necessary for survival, the number of conservation and climate refugees rise.
In times of urgency, slowing down is instrumental to remembering an environmental ethic of coexistence. Elders encourage us to practice quietude in the face of the storm. The intimate conversations below allow insight into Ngan'gi culture, demonstrating the potential to unveil preternatural realities where colonial constructs disassemble. In this formlessness, the resurgence of traditional ecological knowledge and wisdom invites designers to be guided toward the vernacular landscape as we begin to imagine cohabitation with the more-than-human in a time of crisis.
In light of this, recognised Traditional Custodian of Labarganyan Country and Director of Wungeniwurr Culture Centre, Phillipine Parling, and Bewilder's Charlotte Mellis and Jesika Ellul engaged in dialogue surrounding cultural resilience, crisis and Country. Here you can read selected moments from those conversations: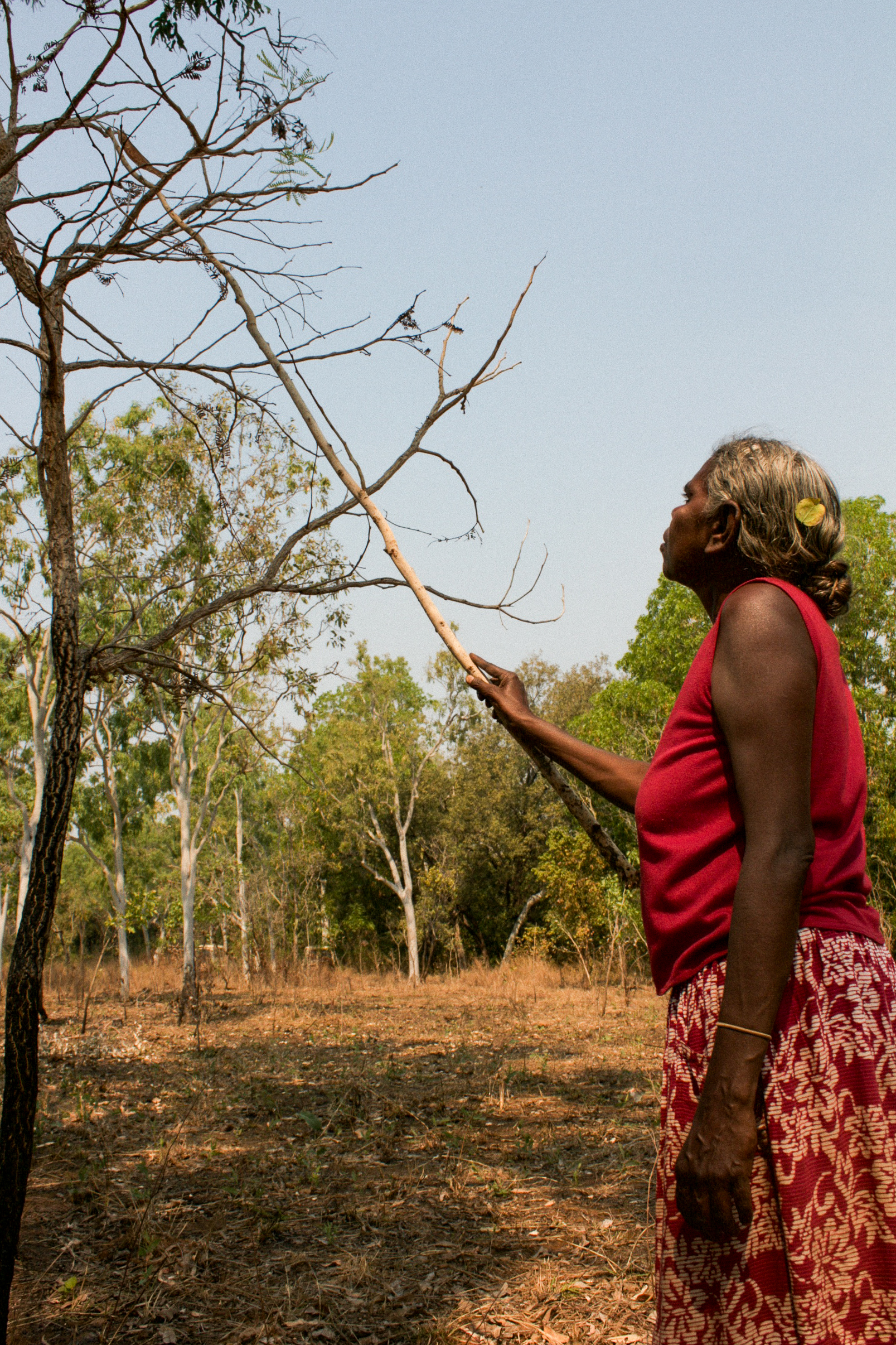 Phillipine Parling harvesting seed on Country. Photo Credit: Jesika Ellul & Charlotte Mellis
Bewilder: The response to a crisis, whether it's a bushfire, flood or pandemic, seems counterintuitive to healing as people are turned away from Country and forced to stay in the community. How does everyone feel being away from the Homeland during these times?'
Parling: 'I feel sad. There was a lockdown at Labu and we weren't allowed to go there because the property manager was isolating himself there for two weeks. When I called saying "I want to go out for my weekend or two weeks", I couldn't. I feel really angry because I'm missing out on everything out there, you see? I miss the bush life and nature. There's been a lot of talk about going out to Country and getting away from COVID-19. I think they're all planning it, you know, to go back to the Homeland.'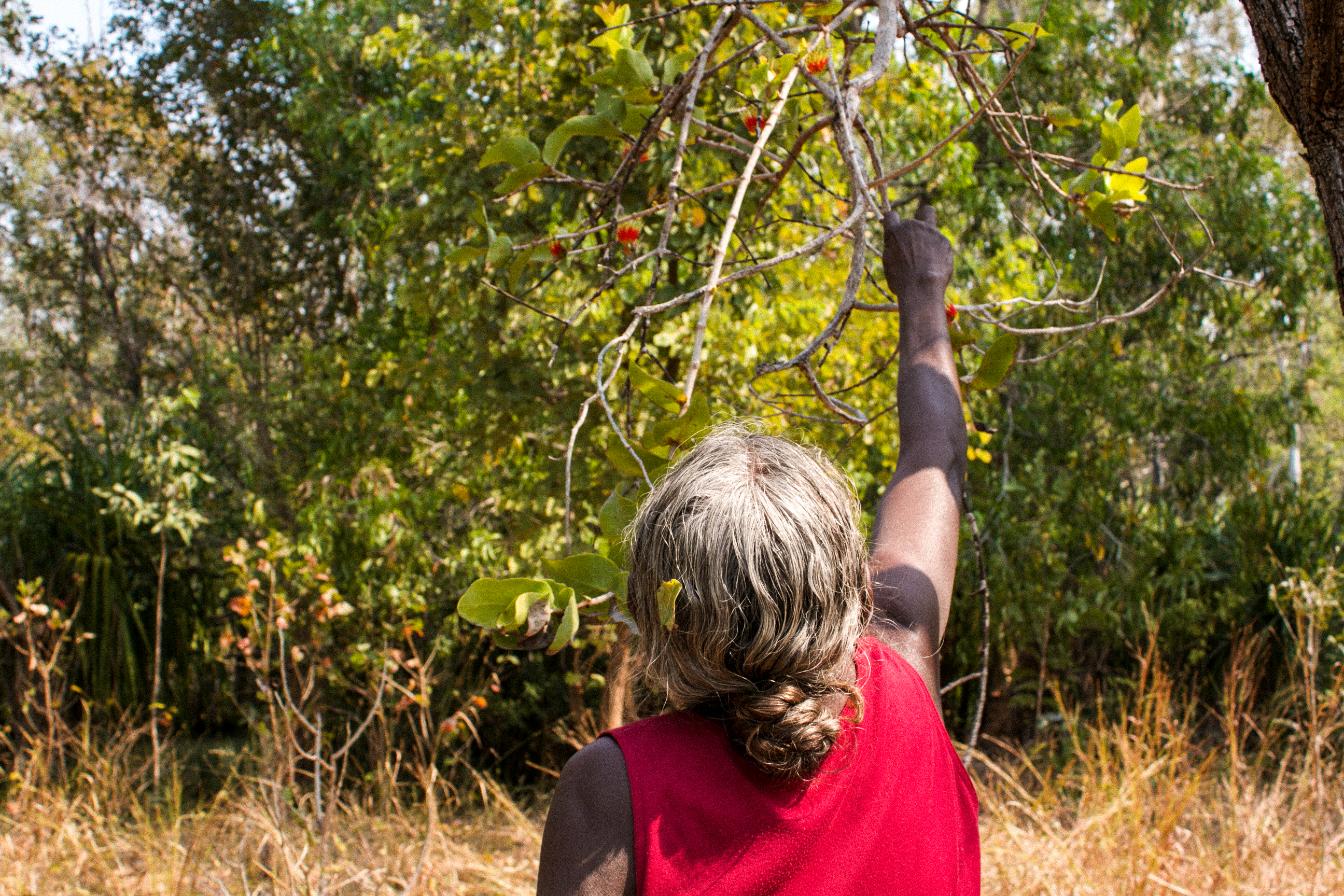 Phillipine Parling harvesting Yerrmisi (Mistletoe)Photo Credit: Jesika Ellul & Charlotte Mellis
Bewilder: 'How do you think that feeling affects the youth? Do you notice their behaviour is different when they're in the community and not able to be on Country?'
Parling: 'They say, "I don't like to stay in the community, I like to go out bush". They learn different things out in the bush. Here all they can do is sit inside on the phone and watch TV, you know? They need to go out bush and do something different and learn something different.'
Bewilder: 'People are saying that Elders are more vulnerable to viruses. How do the Elders feel they can protect their immune systems without access to traditional medicine at this time?'
Parling: 'They've got bush medicine for diarrhoea, and colds and for sores, too. It's difficult to access from the community because some people don't have transport. Only the ones that have access to vehicles can go out looking for bush medicine or go hunting, so there are no healing plants or fresh food like out at Labu.'
Bewilder: 'Do you find that the plants that are ready to be harvested at this time are synchronised with seasonal illness, and offer the kind of medicine that is needed for the community during particular seasons?'
Parling: 'It's now the dry season*.* This is the time when Migenbi [Kapok] flowers. When it begins to flower, the crocodile eggs are ready to collect. People here like to eat Adany [Bull Sharks], too. During this time we know they're really fat. We catch them with a handline and hit them on the head, making sure to clean it properly. It's got to vomit because if it doesn't and you eat it you can get sick. The fat from the shark is eaten and they say it's good for your bones, and even for your asthma.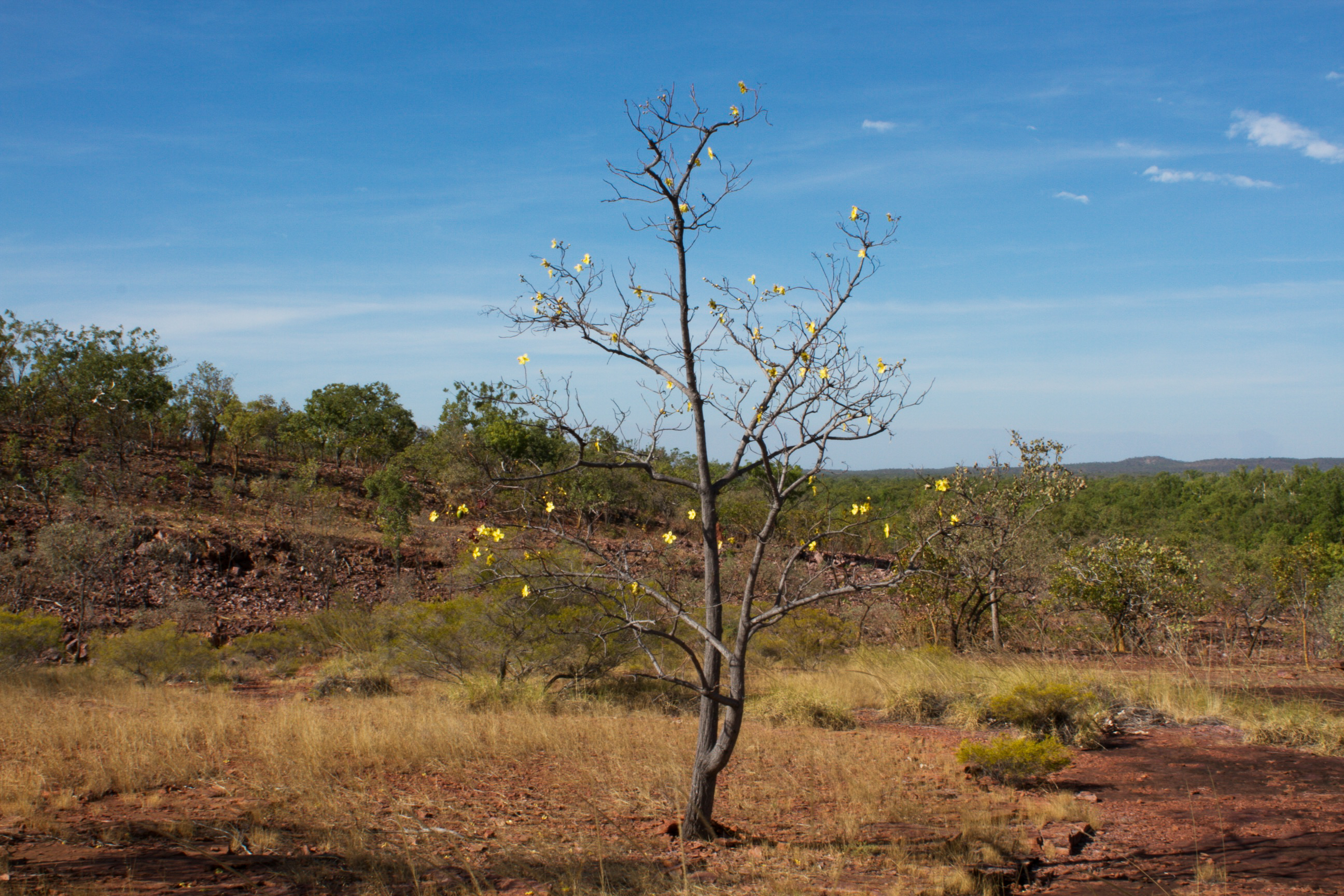 Image of Migenbi (Yellow Kapok Tree) Photo Credit: Jesika Ellul & Charlotte Mellis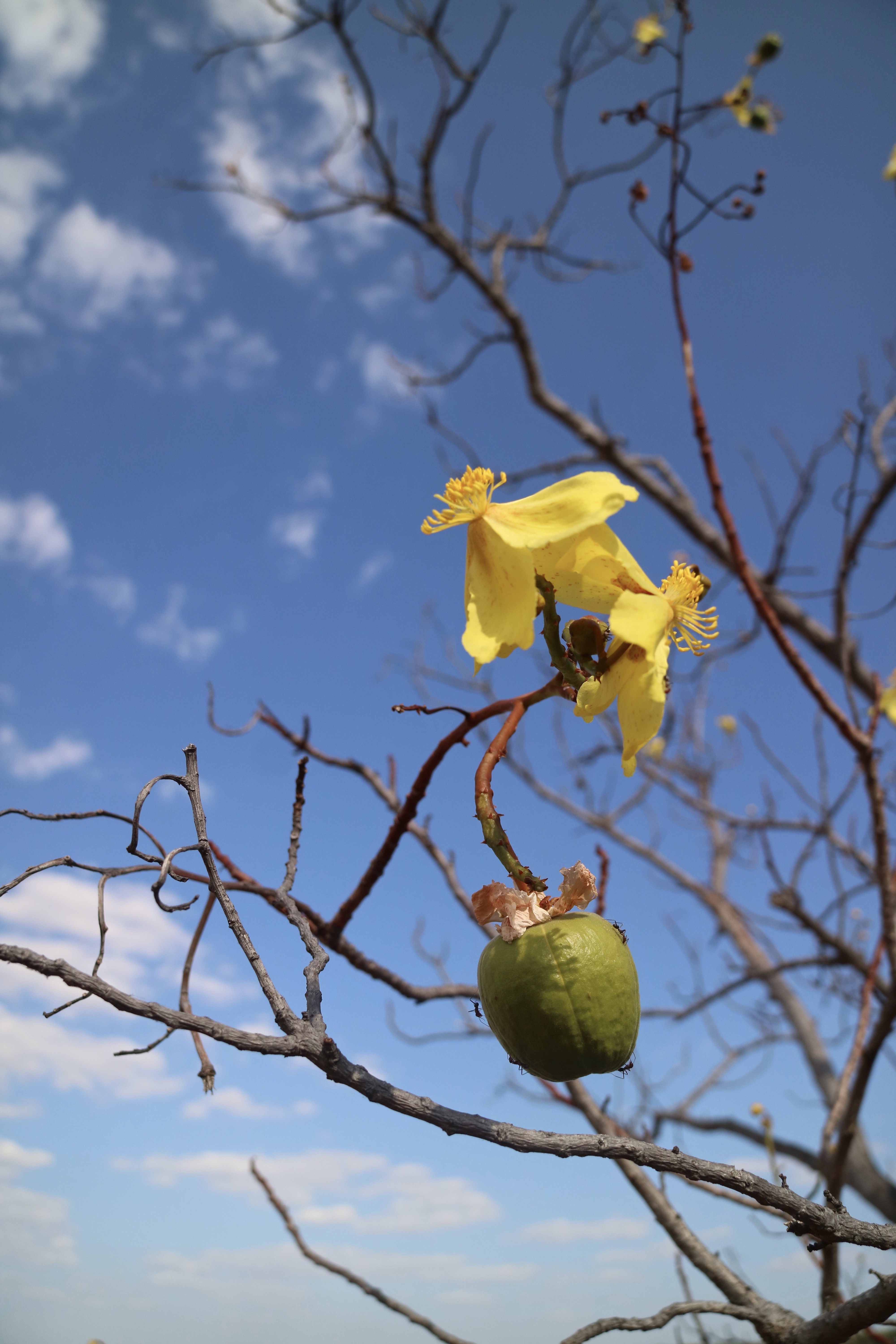 *Migenbi Flower (Yellow Kapok Tree). Photo Credit: Jesika Ellul & Charlotte
'This is also the time to find Fungguli [Sugarbag]. Last time we were out at Labu, I took Aunty with me for a day trip fishing at the gorge and she found Fungguli in an ant nest. I didn't have anything to dig with so I decided to find a sharp rock and started digging in the ant nest. Then we found an ironwood stick, which is traditionally used for digging. It was really hard to get it out, but when we did my son got it and ate it all!
'There's another tree called Yerrdinin [Gardenia], it has a really good medicine for your sores. That's ready to be picked around this time. If I've got back pain or joint pain I usually go to the hot water spring. If you've got a skin problem you go there. We sent a young boy out there last month because he had a skin problem. They took him out there and he soaked himself in that water and everything is all clearing up, it's healing him.'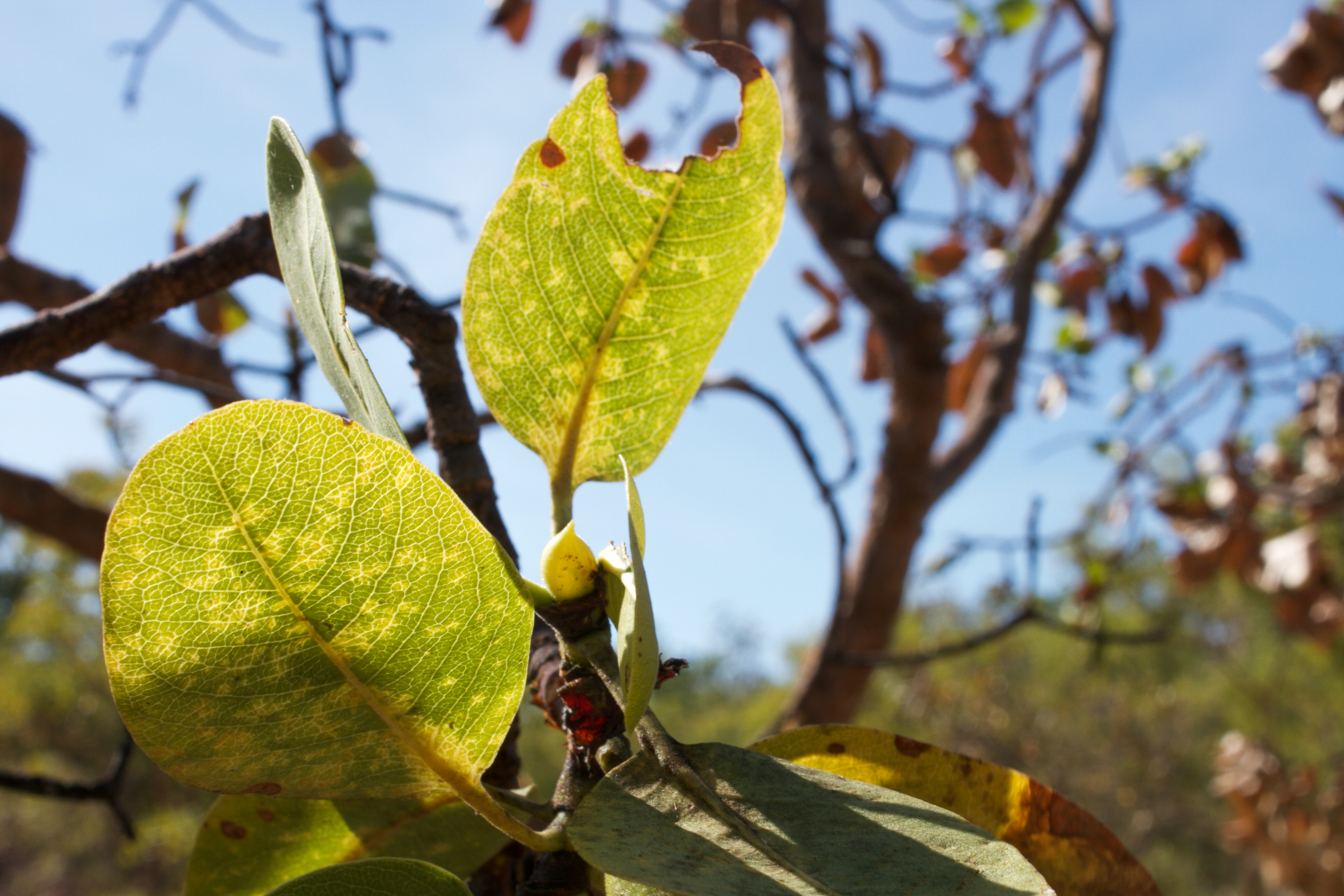 Yerrdinin (Gardenia) Bush Medicine Tree Photo Credit: Jesika Ellul & Charlotte Mellis
Bewilder: 'Where do you think the power of healing is coming from?'
Parling: 'The Spirits. I took a young girl there when we had to come back to the community for the weekend. She had a bad back and could hardly walk. I said to her "go take a dive in that water" and I sang out to the Old People. She was there for a while in the water and I told her to come out and when we got back to the community she was walking well. Her mother had heart problems and was in a wheelchair, and they took her out there a while ago and it healed her. Now she's walking around really good. There's another girl and she was only young when she had a skin infection and they took her out there. She was scared to get in that water but they said to her "if you need help with your skin problem, you need to get in", and the old lady started calling out to the Old People, asking them "...can you heal her?" and her skin is really clear now.'
Bewilder: 'Have you found that the richness of such stories in culture is being shared over these important times?'
Parling: 'Last night we were making fire with family, and we all sat down together. We can share stories, but there are many barriers. The art centre is shut down and the only thing the community has to do day and night is playing cards. Some of them don't have transport to go out. Mostly the young people who have access to transport take their kids out bush for the day. When the pandemic started the women stopped weaving because they couldn't travel out to collect the Yergi [Pandanus], the Merrepen leaf [Sand Palm], and the bush colours for dyeing the plants to weave for Wungeniwurr.'
Bewilder: 'When broken down, what does the word Wungeniwurr [Dingo] mean? One of the women told us a Story about the Ngan'gi word on Country, can you tell us what it means?'
Parling: 'In Ngan'gi Wung means the wind and Wurr is the grass, together Wungeniwurr is Dingo*,* my totem, same as my father's totem and now the name of the culture centre.'
Bewilder. 'Suzanne [Elder] once shared with us that "when you are away from Country, you become sick." She used the Ngan'gi word 'Wung,' which is also written to translate to "homesickness" or "feeling for Country".6 Is that what the community is experiencing now?'
Parling: 'Wung is like the afternoon sea breeze; a wind that blows and the Old People say "Wung…" If they've been away from the Homeland and they haven't been back there for years, when they enter the Homeland they say "Wung" and welcome themselves back.'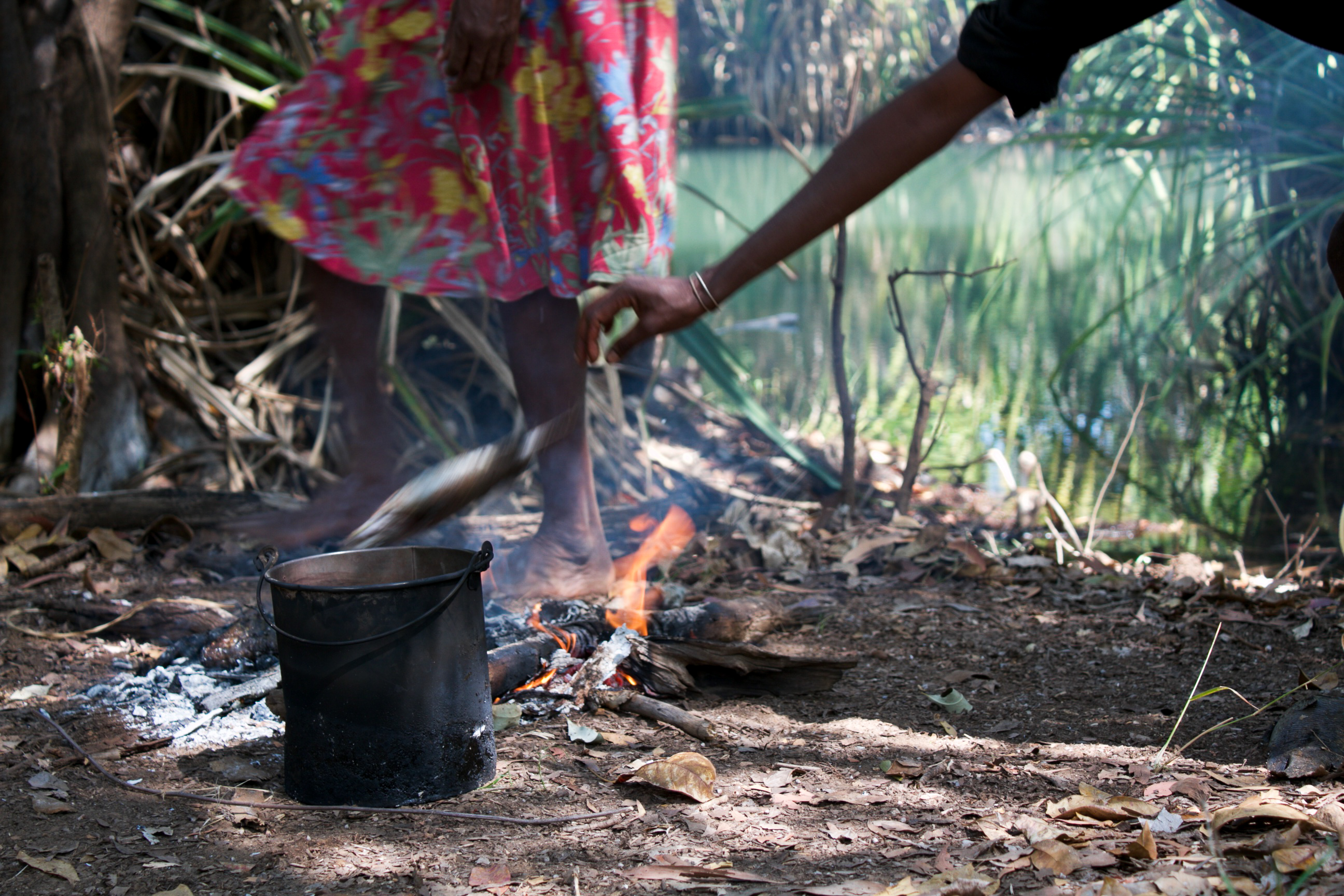 *Women Fishing on Labu Country Photo Credit: Jesika Ellul & Charlotte Mellis
-->