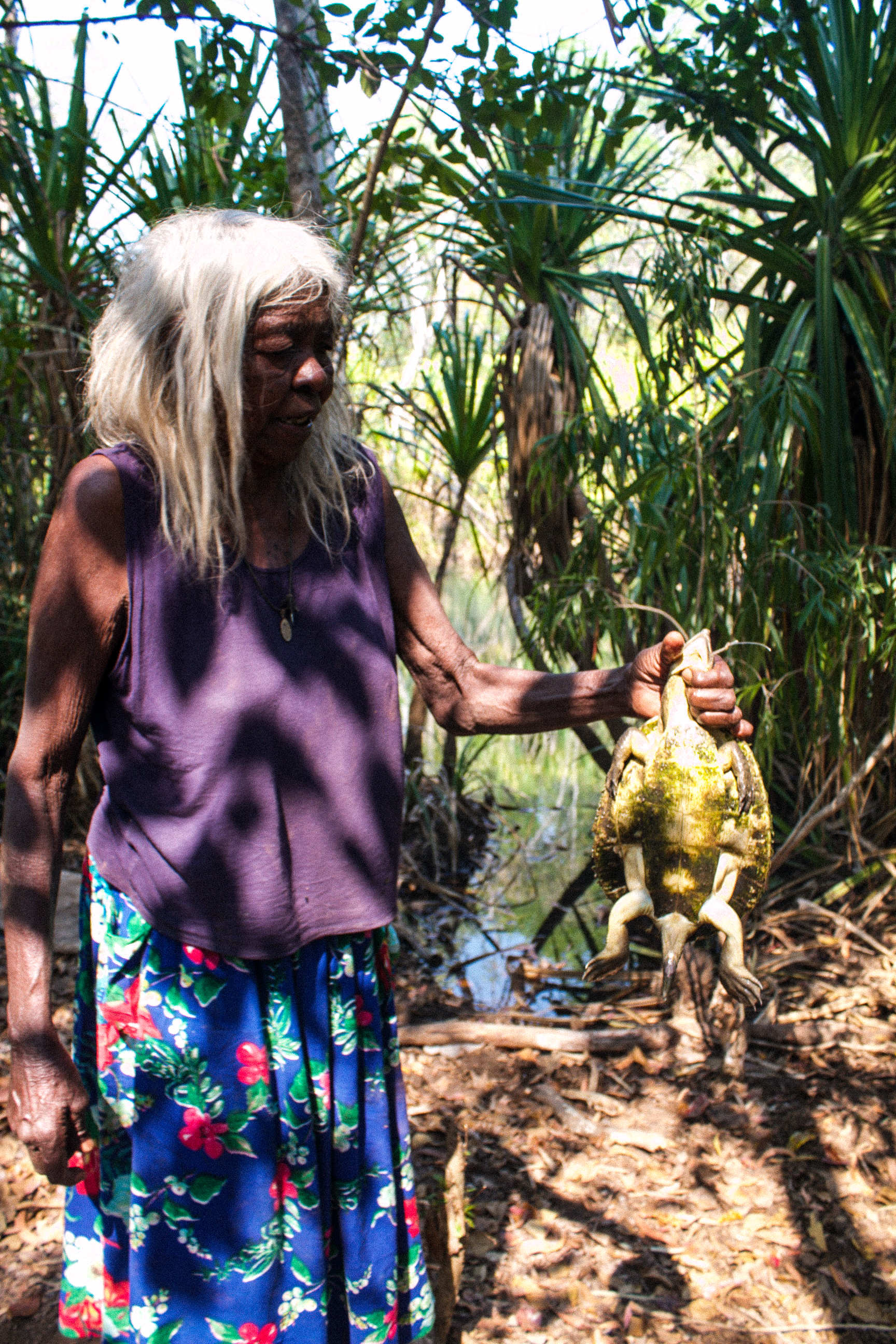 Suzanne Nurra holds Atyindirrity (Turtle). Photo Credit: Jesika Ellul & Charlotte Mellis
Labarganyan Country (Labu) is situated in the biodiverse Daly River region of the Northern Territory. Ngan'gikurunggurr and Ngen'giwumirri are languages of the area, the former translating to 'the language from the middle of the water'.1 Deeply embedded in Ngan'gi culture, it was here where Bewilder, a firm existing to equip female leaders across remote Asia Pacific to protect habitats of wild significance partnered with the recognised Traditional Custodians of Labarganya. The Wungeniwurr Culture Centre was established in 2018, and the partnership has temporarily transitioned to a virtualised collaboration as the COVID-19 pandemic catalysed the strict closure of Nauiyu, alienating the community from Country amid the crisis.
The entanglement of Spirit and Country in Ngan'gi culture is reminiscent of the physical and emotional mutualism that the community's resilience depends upon. This interdependence of wellness and place becomes apparent as people are displaced from their homelands during times of crisis. The colonial subjugation of a people by denying them access to land and traditional medicine is a response that disengages cultural preparedness and exacerbates vulnerability. In the field of psychoneuroimmunology, research has established that emotional stress is intrinsically linked to a decrease in immune functioning and worsened health outcomes in people suffering from a respiratory illness.2 This relationship is further elucidated by research concluding that communities fostering a sense of autonomy and self-determinism statistically have lower rates of inflammatory diseases, such as type 2 diabetes.3
With humans at the epicentre of a crisis, is what we are experiencing a crisis of form? The European Enlightenment constructed the narrative of the West as an elitist monoculture, centralising knowing and control. The domination of humans by other humans birthed the concept that humans are separate to and also hold dominance over nonhumans. This illusory domination over the natural world has precipitated a biotic crisis of extinction amongst Earth's biodiversity; our most valuable yet underappreciated resource. As current frameworks within crisis management such as 'conserve' and 'retreat' deny symbiosis as necessary for survival, the number of conservation and climate refugees rise.
Footnotes
WG Hoddinott and FM Kofod, The Ngankikurungkurr Language (Daly River area, Northern Territory), Australian National University, Canberra, 1988, p. 2. ↩

LM Ventura, 'Psychoneuroimmunology: application to ocular diseases', Journal of Ocular Biology, Diseases, and Informatics, vol. 2, no. 2, 2009 ↩

'Dr Rupa Marya on Decentralizing the Power of Healing', For The Wild [podcast], interview with R Marya, 8 January 2020, https://forthewild.world/listen/rupa-marya-on-decentralizing-the-power-of-healing-153 ↩