The more-than-human Anthropocene
Every event in human history has been a more-than-human event. When humans burn the land for the regeneration of country, they cooperate with herbs that seed quickly as well as grasses that sprout after fires, attracting game. Where fire-vulnerable ecologies gave way to fire-loving ones, this in turn changed how humans in that place lived. Likewise, everyday human life is always a multispecies effort. Look inside: intestinal bacteria make it possible for us to digest our food.
We live in a time that requires us to reconsider the belief that humans master and transcend nature; rather, humans form worlds together with nonhumans. Look around us; the human-sponsored ecological crisis—from toxic pollutants to species invasions and extinctions to disease outbreaks—are events resulting from the inextricably intertwined histories of humans and nonhumans. We must shift our attention: we live in a more-than-human Anthropocene.
Feral Atlas is a digital experiment in exploring the ecological worlds where nonhuman entities become tangled up with human-built infrastructural projects. These entanglements encourage or create non-designed or 'feral' ecologies, which have developed and spread beyond human control. The feral effects of imperial and industrial infrastructure, Feral Atlas argues, are the Anthropocene.
Feral effects can be wonderful or terrible. Humans would all be dead without feral effects. If human landscape transformation was as effective as modernist dreamers claim in replacing earlier ecologies, we might have no more forests or fisheries. Forests grow back, fish escape and reproduce—in such instances, we are lucky to live with feral effects. At the same time, feral effects can kill us, both humans and nonhumans.
Modes of infrastructure-mediated state change
Over the past 500 years, human-made infrastructures have unleashed a set of catastrophic feral effects that endanger life at a planetary scale. This observation leads to a key insight for Feral Atlas: to understand the more-than-human Anthropocene, begin with infrastructures. In Feral Atlas, the term 'infrastructure' refers to human-built landscape modification projects that emerge within social and political programs. Feral Atlas argues that critical description of the Anthropocene, that is, theoretically informed empirical attention to the anthropogenic transformation of land, air, and water, is a central task for our time.
To understand our use of the term 'infrastructure', a place to start is the common sense meaning that shows us roads, bridges, dams, and warehouses—public works that shape how humans operate on earth. We argue that infrastructural work can lead to ecological state changes, which occur as human work is done in completely new ways that result in landscape transformation. Trains, for example, carry large quantities of goods quickly because railroad tracks smooth the terrain. In related ways, cargo ships and planes move goods around the world at unprecedented speed. Radical environmental changes result. For example, the speed and range of industrial shipping has allowed insect pests and plant pathogens to spread across the globe at rates much too fast for plants to adapt. As a result, forests are endangered; groups of trees and sometimes whole species are losing ground. Feral Atlas brings together 77 reports by scientists, humanists, artists, and architects based on field-based observations of the history, politics, assumptions, and non-designed ecological effects of these ways of remaking land, water, and air.
To show how infrastructures create state changes, Feral Atlas starts with the kinds of work they are designed to do. We ask: in the process of doing that work, what gaps and rifts appear in the state of things? What disappears? What proliferates? Recall the infrastructures mentioned above; instead of thinking with trains, planes, and ships separately, Feral Atlas groups together the set of infrastructures designed to move things around over long distances and at great speed. We begin with eight one-syllable words, each derived from the early history of the English language, and, as such, at the base of English-speakers' experience: TAKE, GRID, CROWD, PIPE, SMOOTH/SPEED, BURN, DUMP. We use capital letters to differentiate these terms from their ordinary usages; the ecological state changes they have brought into place are radical, even world-ripping, and they demand a poetics of emphasis. Consider these as verbs; they describe modes of work that people—and infrastructures—do. Consider TAKE: infrastructures that create long-distance transfers, both intentional and unintentional, introduce new living and non-living things into local ecologies, such as transport infrastructure. Thousands of tons of pathogen-laced soils are delivered every day by cargo ships around the world by the industrial nursery trade. As a result of this industrial taking, forests are so overwhelmed by insects and pathogens to which they are not accustomed that they may not recover. Pests and pathogens have always moved, but in this case, the infrastructure of TAKE has created a state change through sheer intensity and scale. Or BURN: the production of anthropogenic carbon dioxide through industrial burning of fossil fuels is perhaps the best-known mode of infrastructure-mediated state change of the Anthropocene. Fossil fuel burning at an industrial scale has changed the dynamics of the planetary carbon cycle, changing earth's climate. By classifying infrastructures according to these verbs, we aim to make clear the rifts that can appear when imperial and industrial modes of work take over from other ways of doing things.
In this essay, we chose four field reports from Feral Atlas to show how modes of infrastructure-mediated state change have created radical social and ecological transitions, some of which endanger earlier living ecologies. In order to become attuned to the designed, as well as non-designed, effects of landscape modifications, Feral Atlas argues that it is necessary to bring multiple alternative spatial analyses of the Anthropocene in conversation. We believe this discussion of the non-designed effects of landscape modification is important for architects—as well as earth dwellers, more generally—to appreciate. Sadly, too many architects have been habituated through commercial professional practice in the art of not noticing! Contemporary architectural interventions focus heavily on the immediate achievement, rather than the long-term spatial effect on humans and nonhumans. We increasingly rely on 'bigger' and 'better' infrastructures to 'save' us from environment disasters, while neglecting that these spatial effects they create might be the cause of the current ecological crisis.
Each case illustrated below builds its analysis through incorporating experiential storytelling, multiple forms of representation, and mapping/spatial studies. Art and architecture expand our repertoire for knowing the Anthropocene. How can we understand places as both particular and planetary? Transdisciplinary, multiform collaborations (such as between architects, who offer particular skills of observing, representing, and analysing through and with human-built structures, and anthropologists, who study places through intensive fieldwork) are essential to forming and conveying new methods and understandings of the Anthropocene that are artistically comprehensible and intriguing, while remaining scientifically accurate.
DUMP: the case of Brownfield Toxins
In Feral Atlas, sociologist Scott Frickel reports on persistent environmental toxins left by abandoned industry. He opens his report through a story: he describes his experience of encountering a strong and uncomfortable odour of volatilising chemicals released from the earth after a rainstorm during his morning run. Urban soils are cluttered with industrial projects, old and new, with pipes, sewers, wastes, and tanks relentlessly accumulating and concentrating toxic hazards both in our background and in the ground on which we live. Despite the transformation of post-industrial sites—abandoned or rebuilt to host other building projects—the chemical residue from the history of industrialisation remains, leaking across urban areas, and fundamentally altering the nature of cities.
This is DUMP, a mode of infrastructure work that gathers, churns, and distributes toxic waste into our earth, air, and water. Since the 20th century it has had new consequences—indestructible plastic, chemical residues and radioactive elements have leaked into the metabolism of many kinds of lives, human and nonhuman.
In order to better understand how the incremental process of industrialisation transformed chemical composition of urban soils, water and air, Frickel traces the disappearing history of industrial sites. His team has developed moving image maps, which help us visualise the spatial pattern and appreciate the intensive accumulation, as well as spatial expansion of manufacturing sites from the year 1953 to 2012. The following three images are excerpts from his team's gif (Fig. 1).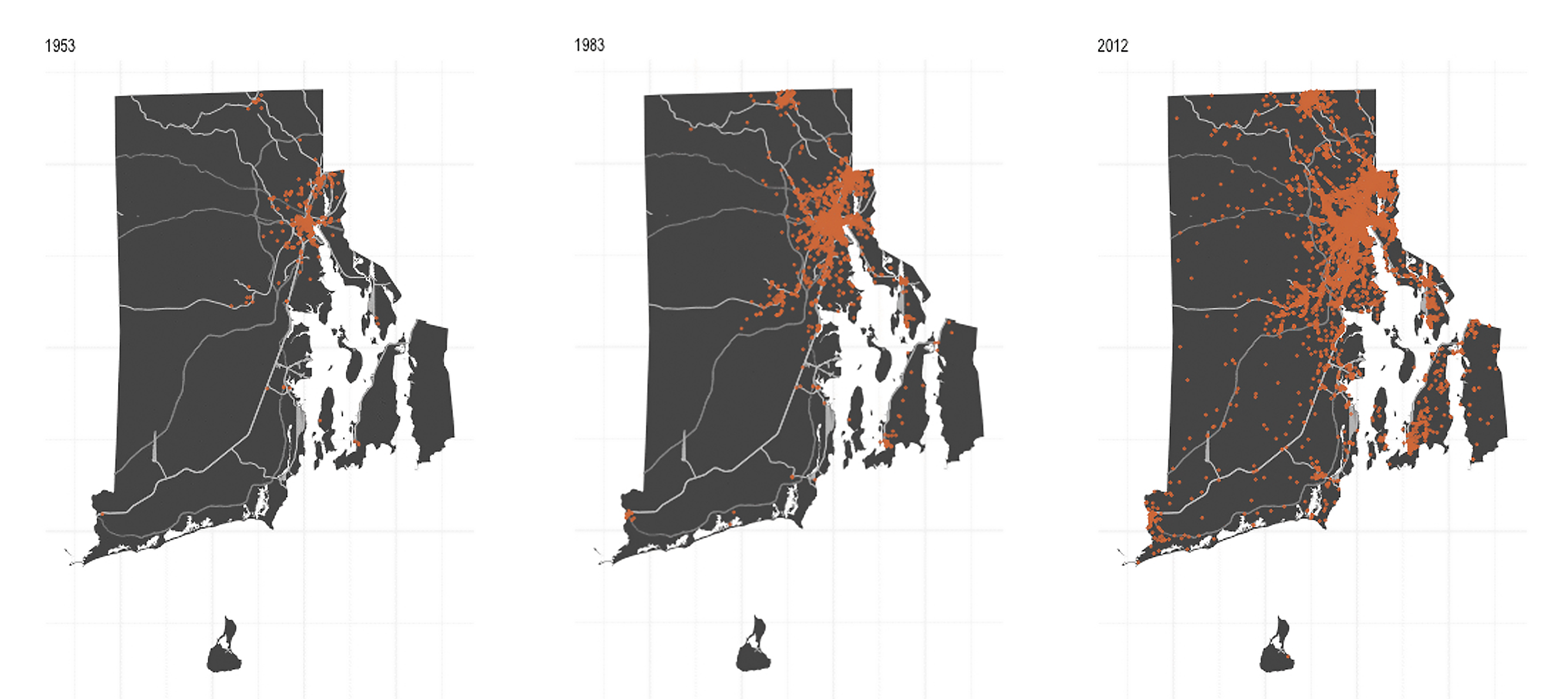 As industry declines, relic industrial sites steadily accumulate and spread. Orange dots indicate the closing of Rhode Island manufacturing facilities, commencing in 1953 when industrialization was near its peak. Map by Tom Marlow using data from the Rhode Island Directory of Manufacturers, 1953-2012.
To convey the sheer power of infrastructure, Feral Atlas uses short videos and sound pieces, as well as written poetry, to invoke the vastness of infrastructural changes to both human and nonhuman social relations. Feral Atlas commissioned a series of visual and sound poems to invite you to listen to and see the gathering and redistribution of waste in the world of DUMP. Echoing the entry of brownfield toxins, Isabelle Carbonell and Duane Peterson present to us the beautiful yet haunting scene of the former iron mine and smelter in Murcia, Spain. Here mine drainage carried by abandoned aqueducts seeps across a hillside (Fig. 2).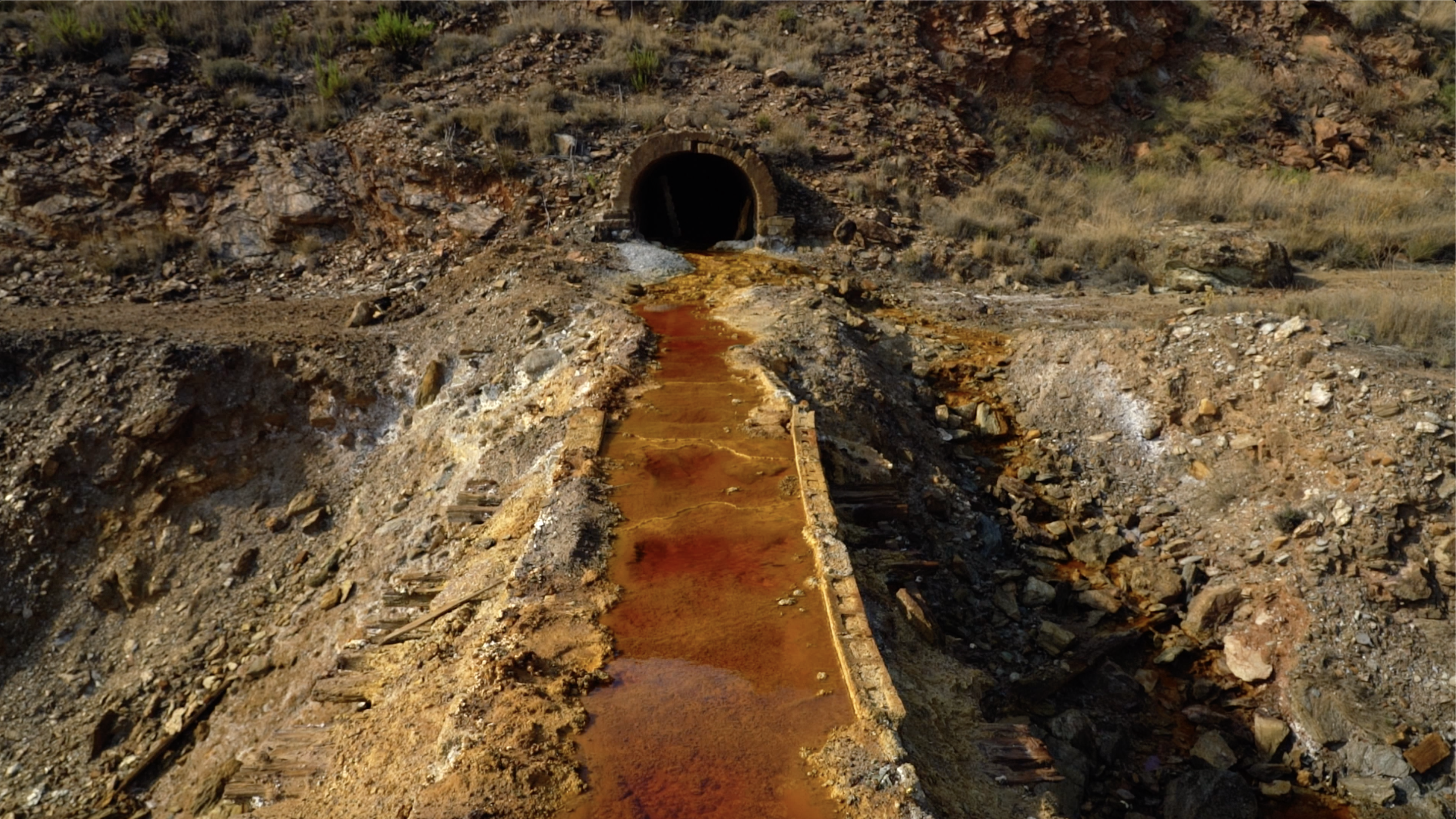 Still from video by Isabelle Carbonell and Duane Peterson.
DUMP can be tangible or intangible. Toxic waste is sometimes gathered or merely left to distribute itself. Feral Atlas uses everyday scenes of infrastructural work to show their ability to rip apart existing social and ecological systems and to create new ones in the more-than-human Anthropocene. Compare the following two scenes of a landfill site and stacked nuclear waste from Feral Atlas video poems to see various forms of DUMP (Fig. 3).

Left: still from video by Isabelle Carbonell and Duane Peterson. Right: still from video by Armin Linke.
SMOOTH/SPEED: the case of Jellyfish Polyps
SMOOTH surfaces of land and water have enabled colonial governance and industrial development; in checking the flow of water and levelling terrain, they sponsor more-than-human invasions. SPEED, too, opens portals for feral effects. Accelerated drilling, shipping, global pathogen introduction, and landscape transformation block the healing of local ecologies by denying them time.
Martin Vodopivec, Tjaša Kogovšek and Alenka Malej observed and modelled how man-made infrastructures in the ocean have become a significant factor in promoting jellyfish outbreaks, by becoming substrates for the cloning of jellyfish polyps. Polyps are one stage in the reproduction of jellyfish; they become the medusae we usually think of as jellyfish. Before they become polyps, they are planulae. Planulae transform into polyps through attaching themselves to a solid vertical or overhanging surface and carry on the process of reproduction. As such structures are rare to encounter in nature, the chances of a randomly placed free-swimming planula successfully reproducing is commonly very slim. However, ocean sprawl caused by human intervention has unexpectedly encouraged intensive blooms of polyp population—concrete shorelines, wind farms, offshore oil, gas rigs etc. These human-created infrastructures with large surfaces of solid substrate provide a vast breeding environment for jellyfish polyps that did not exist only decades ago [Fig. 4].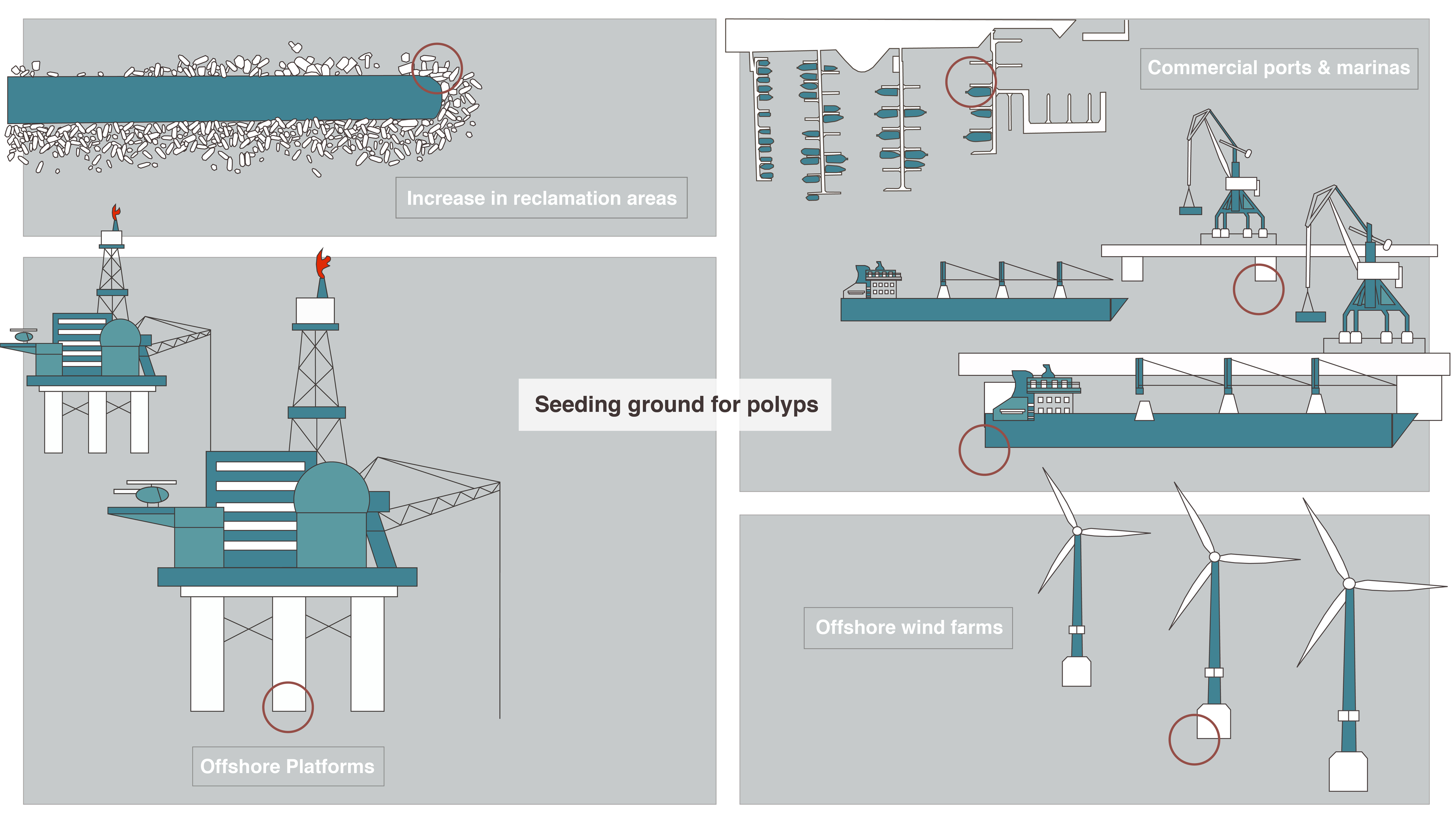 Man-made constructions are known to host jellyfish polyps. Drawn by Feifei Zhou, colored by Victoria Baskin Coffey from image by Martin Vodopivec, Tjaša Kogovšek & Alenka Malej
Jellyfish outbreaks are problematic for both humans and nonhumans. They threaten fish-dominant ecosystems, as well as damage fisheries, aquacultures, and ocean-based industries by clogging power plant cooling systems and intakes of desalination facilities. Human infrastructures promote jellyfish blooms by creating smooth surfaces for accelerated reproduction.
Video and sounds pieces from artists in Feral Atlas show us other examples of the mode of infrastructure-mediated state change we call SMOOTH/SPEED [Fig. 5]. The smoothed runways of an airport; the smoothed waters of a dam reservoir; the smoothed road of a highway. The sped-up time of dam turbines; the speed of motors on a raceway; the speed of planes. The terms SMOOTH and SPEED call attention to the physical qualities and temporal rhythms of infrastructures: the making of artificial smooth surfaces; the coordinated acceleration of one process after another. Sometimes SMOOTH and SPEED work together. A road is smooth to facilitate speed. The rapidly spinning turbines of a dam are served by the smooth waters of a reservoir. Other times, however, these qualities do not intertwine, and our grouping is artificial. Yet these terms call out qualities otherwise ignored by Feral Atlas's modes of noticing infrastructural work.

Left: still from video by Armin Linke Studios. Middle: still from video by Isabelle Carbonell and Duane Peterson. Right: still from video by Anna Friz and Rodrigo Ríos Zunino.
CROWD: the case of Aedes aegypti Mosquito
We live in a strange time when self-isolation becomes the new normal. While our current daily lives are predominantly affected by complicated and extremely dangerous viruses, it makes us wonder, what has our anthropogenic environment contributed to such a pandemic?
Feral Atlas contributor Paulla A. Ebron researched how slave ships become incubators for infectious diseases, such as the yellow fever virus carried by Aedes aegypti mosquitoes. Slave ships were dangerous places: humans were forced into close quarters with inadequate food and water and little or no freedom of movement. Indeed, the horrific crowding of the ship environment provided effective facilities for the development of a new human-loving strain of Aedes aegypti mosquitoes, which carried the virus yellow fever (Fig. 6). This new strain liked human water sources, as well as human blood meals. Emerging with the slave trade, this strain spread across the Americas and then was transported back to Europe, Africa, and Asia. It continues to carry some of our most terrifying diseases, such as dengue fever and Zika.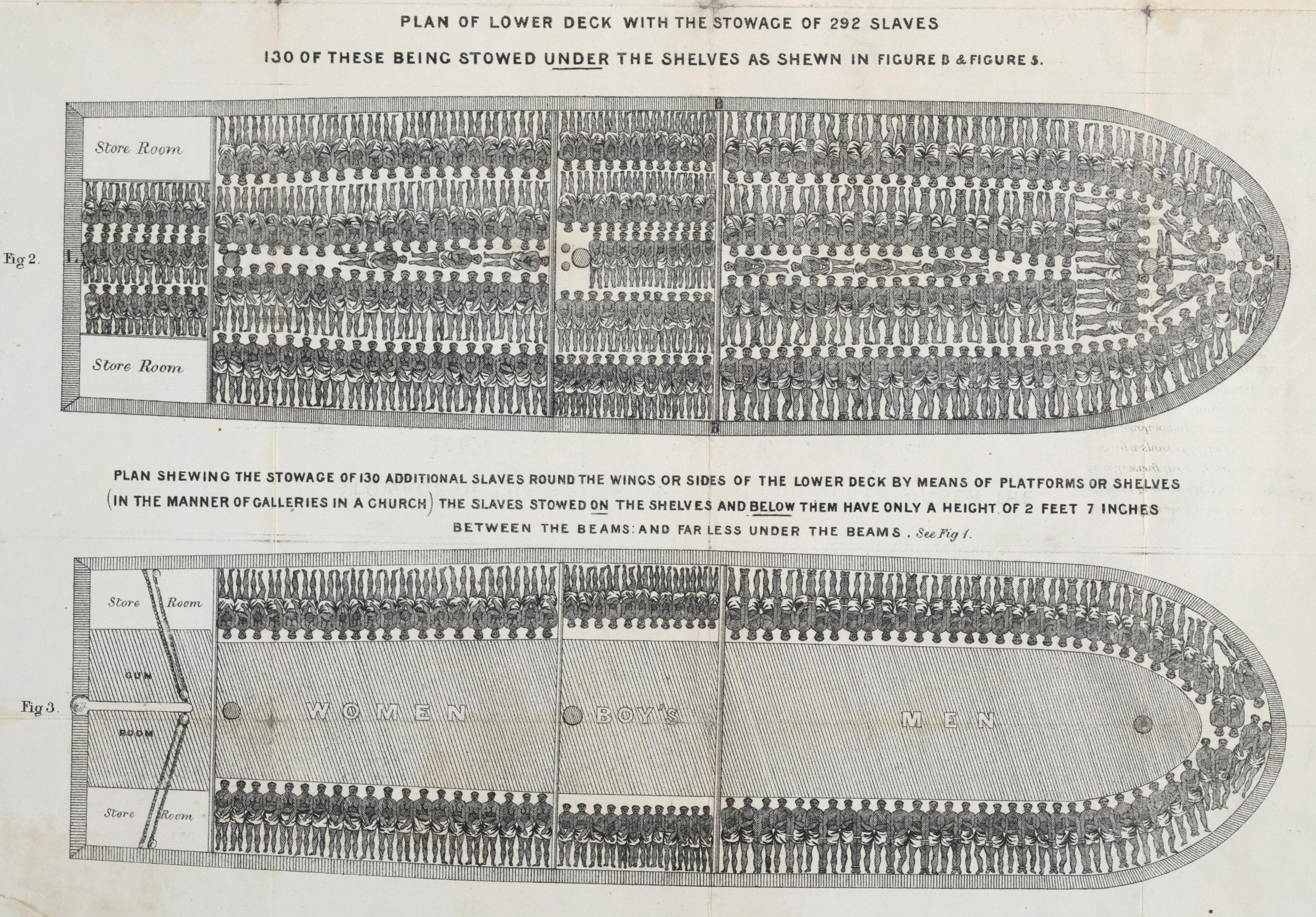 Stowage of the British slave ship Brookes under the Regulated Slave Trade Act of 1788 by Plymouth Chapter of the Society for Effecting the Abolition of the Slave Trade. Image courtesy of the United States Library of Congress's Prints and Photographs division under the digital ID cph.3a34658.
Densely packed scenes of incarceration, human and nonhuman, create feral effects. This is CROWD, a mode of infrastructure-mediated state change often associated with industrial programs. This mode incubates non-designed toxic combinations, runoffs, and forms of virulence. Industrial farming is a significant example of the crowding of nonhumans, in many cases it became a breeding ground for pathogens and viruses to spread and evolve. Compare the following day-to-day footages of the crowding of farmed chicken and chemical residue (Fig. 7).

Left: still from video by Stanley Tan and Duane Peterson. Right: still from video by Isabelle Carbonell and Duane Peterson.
GRID: the case of Potato Late Blight
Potatoes are a New World crop that only came to Europe in the 17th century with European seamen. Potatoes were better than many European crops at feeding farmers with only a little land. In the 19th century, elites in Flanders ordered peasants to grow potatoes—thus instituting monocrop cultivation with only a few of the thousands of varieties grown in the Andean homeland of this crop. Growing monocultures is dangerous: pathogens can wipe out the whole harvest. This is what happened in Belgium, Ireland, and other parts of Europe. The killing water mold Phytophthora infestans caused an epidemic of potato late blight which moved across the landscape. In contrast, as historians Dieter Bruneel, Hanne Cottyn and Esther Beeckaert explain, the multicultural landscapes with a great variety of potato species in the Andes were much less vulnerable to P. infestans. Alas, however, the commercialisation of potato growing in the Andes has now reduced potato varieties and made indigenous potato crops more vulnerable.
The following diagram shows the comparison of potato varieties on three Andeans fields and one Idaho field (Fig. 8). The varietal diversity of a single Andean potato field exceeds the diversity of nine-tenths of the entire potato crop of the United States.

Figure adapted from Zimmerer, Karl. (1998). The Ecogeography of Andean Potatoes. Bioscience. 48. 10.2307/1313242. Map by Lili Carr.
The Atlantic slave trade, mentioned above, facilitated the spread of plantations in the New World. The European cultivation of exotic crops in New World plantations then created a new model not only for commercial agriculture but also for the coordinated discipline of humans and nonhumans. Feral Atlas' category GRID refers us to the ecological simplification of the plantation. Feral effects multiply within simplified ecologies, such as in industrial nurseries, factories and hospitals, which in turn engender the proliferation of pests and pathogens. Our video poems show similarities in various scenes of GRID, allowing viewers to notice how our world has been shaped into a strangely heterogeneous and simplified place (Fig. 9).

Left: still from video by Armin Linke. Middle: still from video by Bruce Rhoads, Trevor Birkenholtz and Armin Linke. Right: still from video by Andrés Camacho, Jennifer Deger and Duane Peterson.
This essay offers just a taste of the analysis and content of Feral Atlas, which will be available, open-access, from Stanford University Press at www.feralatlas.org in October or November 2020. This essay's authors worked together with Jennifer Deger and Alder Keleman-Saxena, and many makers and contributors, in putting together this critical description of the Anthropocene through attention to non-designed infrastructural effects. We encourage you to explore the atlas to learn more about how we might be more aware of living in common during this precarious time on earth. All images are from Feral Atlas.
For further references on the issues discussed in this article, please see www.feralatlas.org for a fuller scholarly apparatus.