The Editors discuss the Culture Park Westergasfabriek, Amsterdam and design politics with Kathryn Gustafson at the IFLA Conference, Sydney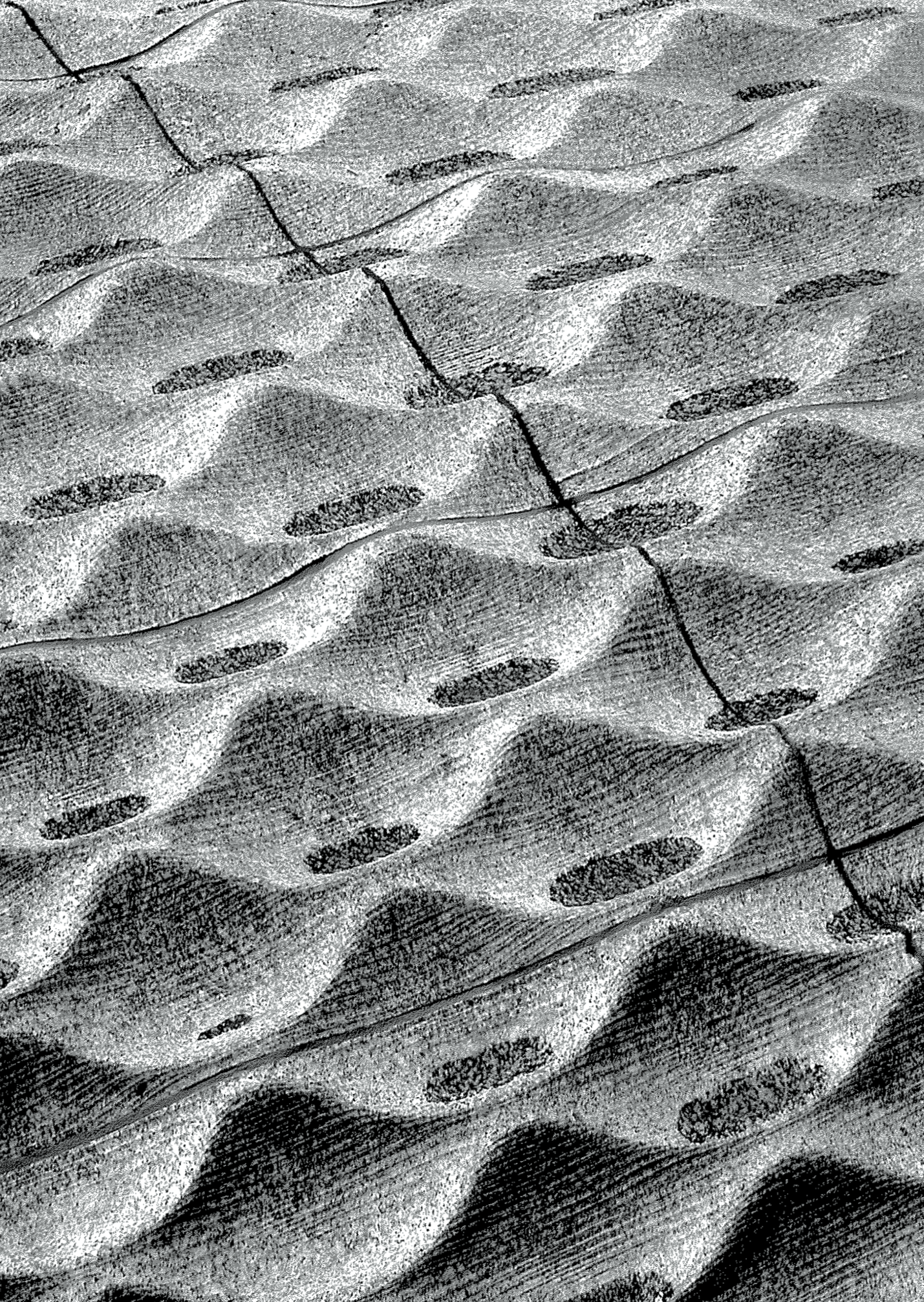 Kathryn: One of the reasons I think Amsterdam [Westegasfabriek] works is that this infrastructure, the twenty-two historical buildings, very specifically did not become the core of the park. They became auxiliary pieces that were in the park but they didn't form the park. If they had started to form the park then the park would be subservient to them. For those buildings to work in a contemporary park they've got to feel like the twilight zone. If not they will dominate the park. You've got to make them strange. You've got to make them almost float within space. That may be one of the reasons. You look at the buildings and they all have this very intricate detail around where the ground hits the plane … that's to create a shadow, a gap feeling, that is, as if they have emerged out of a pre-existing plane. But the actual plane of the park existed before they did. it's a way that makes the park stronger than they are. We worked really hard at it. It took months to try to figure out how to do it, so it didn't become the village. The park had to be stronger than the infrastructure.
Kerb: In your presentation this morning, you referred to the shift away from the destination landscape.
Kathryn: There are destination landscapes. Westergasfabriek is a destination landscape, Terrasson is a destination landscape, there are destinations but what I was trying to say is our relationship to contemporary landscape is everyday now. it's there, it's under your feet, it's as you walk in your door.
Architectural, contemporary landscape is part of every piece of your life today and that's the big change from fifty years ago where you had a little bit of contemporary, a little bit of modern and little bit of historical. Today we live in designed spaces. They are not haphazard any more. Nothing about this appears haphazard. Whether you like it or not is another issue. That's the big change, that it permeates our life, you look around you. You look up, you are in designed space. Everything is designed. Whereas before that was the part of the elite, it wasn't the part of popular culture, it has been popular culture since World War One.
It's a consequence of the industrial revolution. It's a consequence of having a middle class. It's a consequence of no longer having a proletariat but having an educated class. It's the entire social movement that has changed that, but we need to understand that we are part of a life, we are not only destination.
Kerb: Do you see that as a measure of the democratisation of space? Do you believe that's had a positive effect?
Kathryn: Yes I think it's hugely positive, I think it is the most positive - that our general public is educated. I have interviews with Belle Magazine for god's sakes. I mean, that is, they are interested in what landscape you are living in. You didn't have that interest thirty years ago. It was only for the rich or the super rich. I think it's fantastic.
Kerb: Can you talk more about what you described as 'the disaster of sameness'? Do globally corporatised offices have something to do with this?
Kathryn: I work all over the world so I could be considered a global corporate office. I work in India, I work in the Middle East and I work in Europe. So I think that we shouldn't confuse the issue. There are corporate offices of landscape architecture and we all know who they are, we don't need to name them. They work on a different kind of efficiency and they work on a different kind of product. We are design boutiques, they work on a bigger mass market product and they try to get into it as much design and emotion as they can. They don't spend the time we spend, because it's not a priority. That is not what I'm talking about. What I'm talking about is the existing franchising of the public sector responsibility to create public spaces within their budgets. That they are more and more thinking that public spaces, exactly like what's happened here [gesturing towards Cockle Bay, Darling Harbour, Sydney], need to be created by the private sector, or that we need to design landscapes in such a way that they can be extensively programmed, thus creating income for them to maintain themselves. You don't ask a library to maintain itself, do you? You don't ask the swimming pool to maintain itself. So this shift of the public realm, of the civic responsibility of a government to create a landscape, they're shifting it off to the private sector. And I don't agree. The value in it is not equal to education. it's not equal to the library. it's not equal to public health, which is the swimming pool. And so the whole vocation of civic is being lost and it makes me furious. Because what you get, once you try to program … you enter the retail market and the minute you enter the retail market you're working with market forces that have nothing to do with your locality and the minute you don't have anything to do with your locality, then you get into the corporate and you get the same thing that you get in Baltimore, that you get here, or wherever it is. It has to do with the retail mentality. This is my fight and this I think is the fight of the next twenty years. What is civic and what is the role of landscape within the health and education of the population.
Kerb: How do you advocate for that sort of change?
Kathryn: To advocate change you have to put your force behind it and prove it. Proving it through studies or proving that we have less mental health problems … I don't know how you go about it, but it seems like we really shouldn't have to prove it. But we are in a situation where we are going to lose all political, voluntary civicness to create public spaces if we don't go out and do something about it. They're not creating parks any more, they're not maintaining them. Or they create them to get the vote and then they don't maintain them. it's not a priority and it needs to be a priority. it's extremely important for the mental health of the entire population.
Kerb: Do you see that idea as a balance of process and progress?
Kathryn: Well I think the process, one of the processes, obviously is the creative process, but there is the political process for getting something built and we don't talk enough about the political process behind getting something built. Part of the process is understanding where the funding is coming from, how to generate enthusiasm. How to generate public support, how to keep what I call the ball moving. Projects have this sort of energy to them and you've got to keep that energy moving. The minute the ball stops rolling people start questioning it, saying they want to replace it with a new shiny penny, they want to do this … they get bored because the ball's not rolling. And so to get a project built you've just got to keep that ball rolling and you cannot let things lapse at any one point. We're moving, we're moving, what are we going to do now, what do we have to do next, you know everything's got to be planned out and you've got to keep it moving at all times or you'll lose it and you've got to keep the magic going all the time. That's a part of the process. And it's really hard to teach. You've got to keep it current. You've got to keep it fresh. You've got to keep that client so excited that they're dying to see the next piece. Because otherwise it'll just dissipate, you know something else walks in the door. You've got to keep them interested. So that's part of the process. It may sound jaded but it's a reality.
That's the political process and then there's the design process. The public process making sure that you're listening correctly. The biggest problem with the process of consensus is that it is not democratic. You'd think that it would be, but you get people who are more comfortable with public speaking and so they start doing all the talking and they start pushing the process to what they want and they are not the majority. it's a challenge to try to get all the voices, to get balance. Consensus is a lot of work and it takes a lot of money to do it right. In Amsterdam we did a year on consensus. It was very well organised and it changed the design in certain ways. We had a strong client that said no, that's going to change it too much. But really trying to define what people are asking for or establishing if they were actually getting it and didn't realise it. What specifically were they asking for? How could we adjust to it and make changes? We made tonnes of changes but they were good things. They made the project better. But there wasn't a major overhaul of the design. Really giving people a voice, working out exactly what they're asking, what they need. In the end if they can verbalise it, they can realise that what they are actually asking for is not something very different from what they are actually getting. Instead of just saying oh I don't like it, OK what? Break it down, what is it you don't like?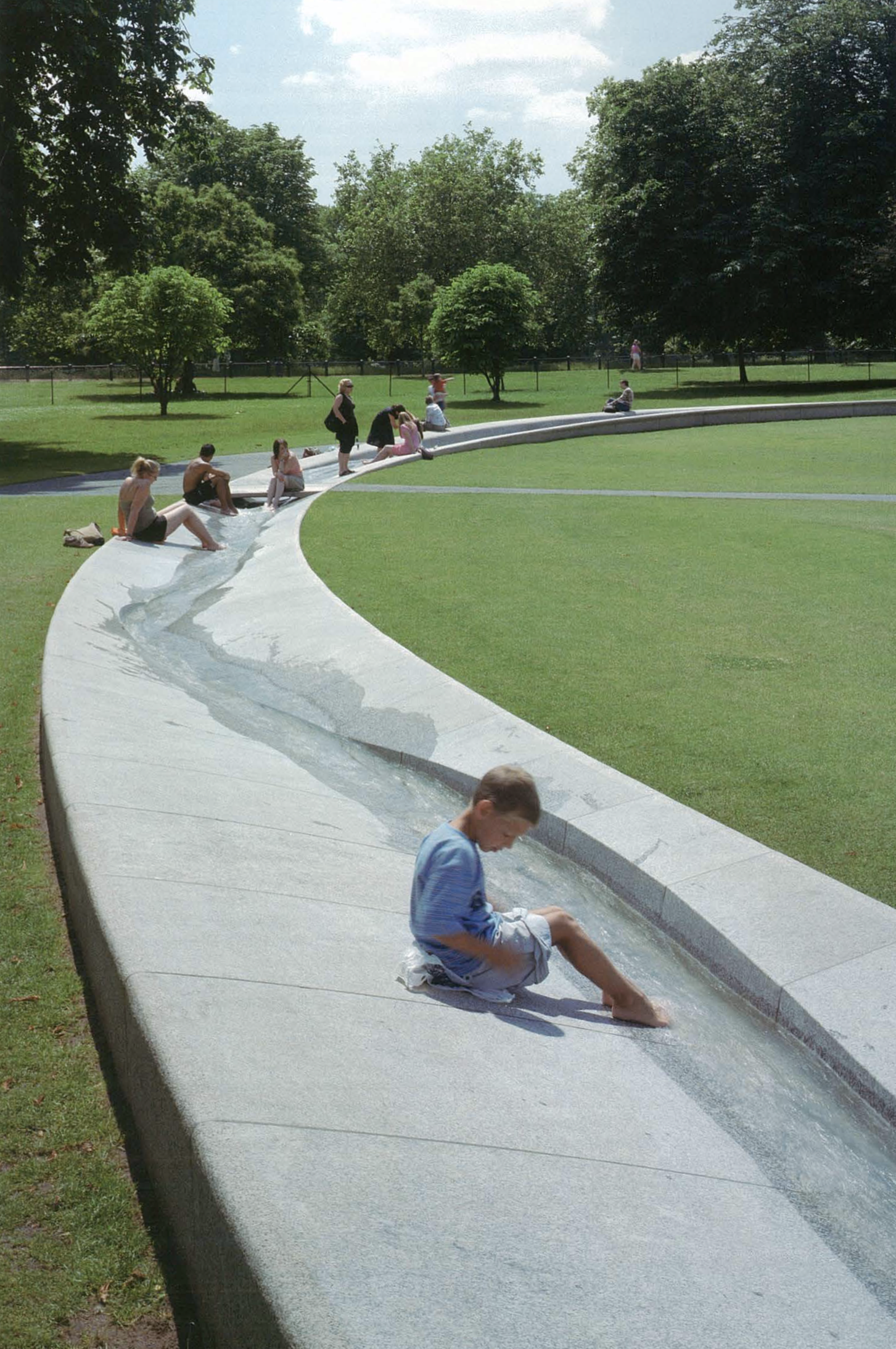 Diana, Princess of Wales Memorial Fountain, image: Helene Binet, courtesy of Gustafson /Porter
Kerb: Can you talk about incorporating sensuality into your work, your use of light and water?
Kathryn: I think, its sort of two-fold thing, I'm older. I wasn't raised in the ways of sustainability so I'm sort of learning it and I'm of French education, very formalistic. When I saw the first bio-swale I looked at it and said, why didn't you put in a drain? it's a waste of space. Land is too valuable to be doing this, what are you doing here? So that's part of just, basically, age and education. Also there is an acknowledgement that this is artificial, this is not natural, there's nothing natural about this. OK. Eighty per cent of our work is on slab. it's over our atriums, it's over parking garages, nothing is natural. We have polystyrofoam up to here, and then we have maybe a meter of soil - everything's artificial. That's the first question, how long should a landscape project last? You know, I always thought it was supposed to be 100 years, well it isn't. I mean maybe it's only supposed to last ten years.
Kerb: Are you troubled by that concept?
Kathryn: I think it's horrible. I have a really hard time with something so timeless as landscape being temporary. It really is hard for me. It may not be hard for someone else. So I try to make my artificial things urban, they're part of the city.