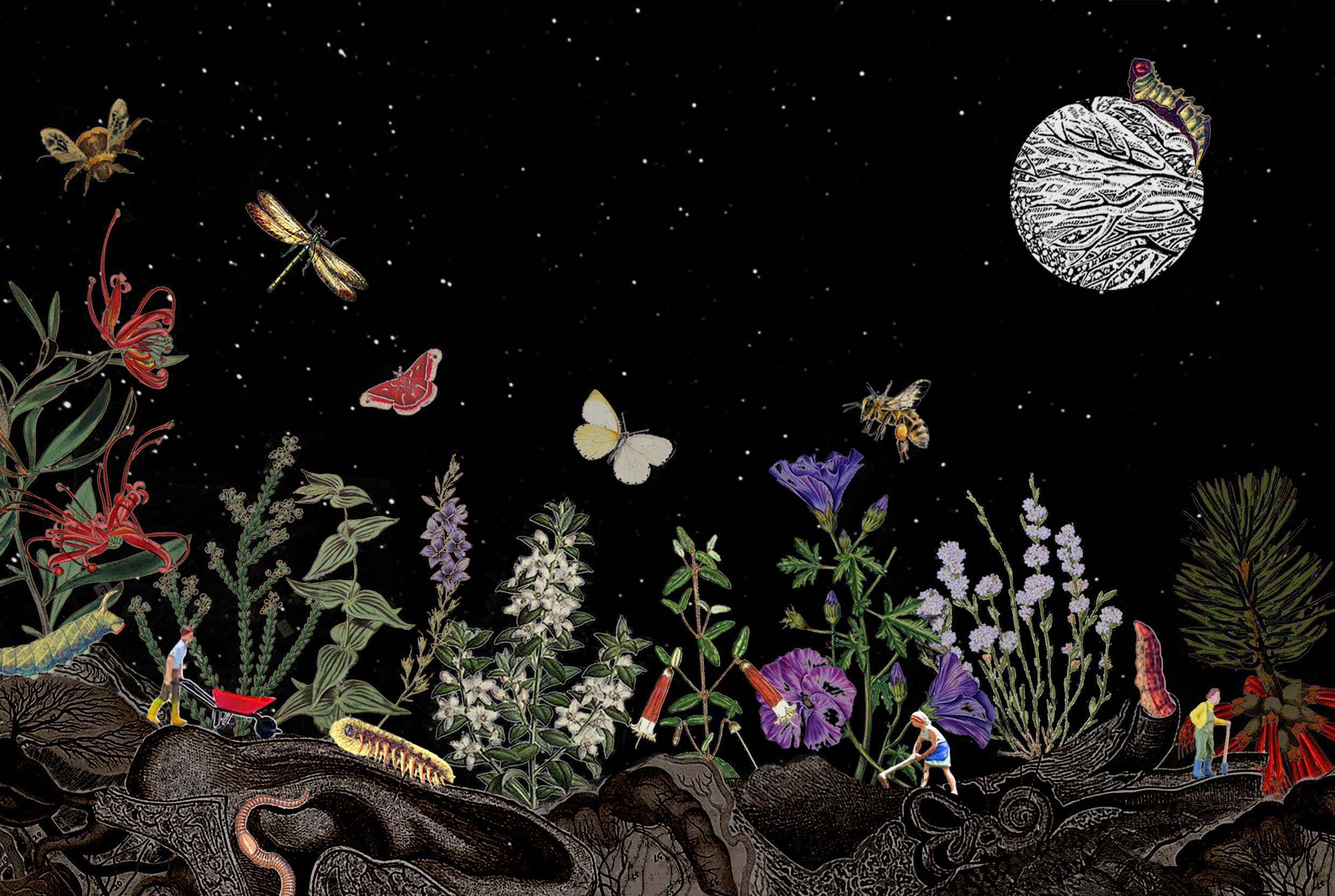 Salutogenesis, Artwork by Molly Rose Coulter.
This article was first published by Foreground. It has been adapted and republished in Kerb 28 with permission.
It is ironic to consider that anthropocentric design, realised through a loop of development and growth, may ultimately lead to our demise. We continue to rely on double-bind thinking, drawing on 'the misconceptions of the past [to] address current problems … when the solution [only] magnifies the problem'.1 The age of the Anthropocene heralds a crisis of agency that demands exploration of new modalities.
The period when human activity became a geological force on a planetary scale continues to adversely impact the health of our world and everything that lives within it. The United Nations states that health is both an outcome and a precondition of sustainable development. Yet many of the health challenges created by, and facing global urbanisation, are anthropogenic, and include: increased pollution, rising temperatures, reductions in access to open space, the loss of biodiversity, diminishing water and air quality, extreme weather-related disasters, and global pandemics.
Western conceptions of health have historically been individuated to humans. But a less anthropocentric concept of health has emerged as an understanding of ecological contingency has gained ground—we might therefore consider three expanded definitions of health.
The World Health Organisation (WHO) defines environmental health as a branch of public health defined as relating to aspects of human health and diseases that are determined by environmental factors. Ecological health expands the definition by embracing the deep and fundamental complex interrelationships that collectively influence both human and environmental health.2 Ecosystem health, meanwhile, is considered a metaphorical extension because it extends the meaning of health in a new direction. The term originated from the work of American conservationist and bioethicist Aldo Leopold, and is typically used to describe the state of an ecosystem and may involve the conservation of species human or more-than-human, the maintenance of evolutionary and ecological processes, or the functioning of ecosystems.3
In 2004 the 'One World-One Health' concept emerged, aiming to combine biodiversity conservation with public health objectives by reinforcing the connection between the emergence of infectious diseases that stem from wildlife and the degradation of ecosystems.4
The novel zoonotic coronavirus SARS-CoV-2 might be considered biodiversity's response to anthropisation, eliciting in return the human response of retreat from the city. Yet even with over half a million human deaths, discussions around the interdependencies between human, animal, and ecosystem health—and between urbanisation and biodiversity loss—remain at the margins. This familiar denial is reminiscent of attitudes towards the climate emergency which is complex and hard to perceive, and where we ourselves are causatively implicated.5
Zoonotic diseases are defined by multi-species relations, yet analysis continues to reinforce concepts of health through individualism rather than holism. If instead we adopt a multi-species perspective, might we be able to relinquish our human biases and actively oppose the speciesism that is inherent in modern paradigms of design, development, and health?
Western concepts of health have been preoccupied by pathogenesis, an understanding of what leads to the development of disease. Conversely, evidence-based design or salutogenic approaches consider the causal factors that help to achieve wellness, or optimal health. To focus our attention on planetary health we need to further de-individualise health by drawing on salutogenic approaches; scaling up to ecological urbanism we can address the health of the ecosystems we are part of, across catchment-wide, metropolitan, and bio-regional scales.6
Foregrounding the ethical and legal implications for the protection and enhancement of non-human and human health in the design of cities can unlock their potential as 'multi-species assemblages'.7 The term multi-species is well established within conservation ecology and reinforces both the importance and comparability of life forms. This multi-species approach forces the de-centring, that is so essential to abandoning anthropocentric approaches that have 'held humans at the centre of meaning and power.'8 It also reinforces the importance of transdisciplinary approaches to biodiversity, wellbeing, and health that acknowledge the interrelatedness of science, ethics, governance, and economy.
The anthropocentric built environment is a consumptive form of cultural production that affects the health of the planet, negating what went before, whether cultural or environmental. But as landscape architects our role is to be projective—we cannot be fatalistic about the health of the world. Instead we need to work with the shift in scales the epoch necessitates, whether at an ecosystem, biosphere, or species scale.
Aesthetic appreciation was historically central to a western understanding of nature, albeit initially as other, and later as commoditised. But aesthetic appreciation was equally pivotal in defining nature's intrinsic value as a pre-cursor to conservationism, and aesthetic relations have long since remained tenets of good design. But, in the context of climate change, rapid urbanisation and declining ecological health, the imperative of an eco-aesthetic emerges. This aesthetic shift seeks to further broaden our aesthetic relationship 'not only with objects, spaces, environments, and ecologies but also each other, and the political structures in which we are enmeshed'.9
A design practice that focuses on immersion and participation, and performance rather than conveyance, can cultivate a sense of interconnectedness to, and recognition of, the agency of the more-than-human. Which gives rise to an eco-aesthetic, that trades appreciation of, for attentiveness to, in a bid to de-couple the anthropocentric from aesthetics. Whilst never free of human manipulation landscape architecture might, by turning toward a more ethical form of practice, focus less on production and more on an attention to, and the recognition of, the interrelatedness of everything, which is best mediated through sensation.
Ecological awareness in the age of the Anthropocene is not 'about being ecological, it's about understanding that we are ecological'.10 But if we want to improve ecological health, then we must first learn to work within the landscapes that we are part of—as assemblages, Deleuzian wholes characterised by relations of exteriority. A 21st-century design practice must therefore be driven by an eco-aesthetic responsibility, an attentiveness to 'the world in its entirety, including both natural and built-environments'.11
As early as the 18th century German scientist and explorer Alexander Von Humboldt made claims about the interconnectedness of everything being something that is so central to ecological health, and yet the western pre-occupation of preferencing things over relationships has prevailed. We need to move away from anthropocentrism to what academic Kerry Arabena, current Chair for Indigenous Health Equity Unit at the University of Melbourne's School for Population and Global Health, calls 'universe referent', by acknowledging that humans are a species amongst species.12
Universe referent health is 'the state of well-being that results from people living in balance with and taking responsibility for, finite biological and physical ecosystems, and seeking to attain health and wellbeing in the context of healthy ecosystems'.13 For Arabena, 'ecosystems health is the centre and foundation for human and societal well-being throughout the world'.14 If by contrast we continue to see human beings as the most significant entity in the universe and interpret the world solely through human values and experience, then we will continue to face the most profound of unintended consequences—a fatal threat to ecological health.
Footnotes