RASANBLAJ12
Resist the impulse to translate, pronounce it first. Think consciously of the sound. Let the arch of the r roll over the ah that automatically depresses the tongue; allow the hiss in the s that will culminate at the front of the teeth to entice the jaw to drop for the an sound while un-smacking the lips will propel the bl surrounding the depressed ah again ending with j. Play with its contours. Know what this word feels like in your mouth. In Haitian Kreyòl. 3 syllables. Ra—San—Blaj. n. assembly, compilation, enlisting, regrouping (of ideas, things, people, spirits). For example,
fè yon rasanblaj: do a gathering, a ceremony, a protest.3
An Equitable Human Assertion4
Calabashes, cowries, herbs and spices, natural pigments, resin…
What if our point of departure in encounters with difference stemmed not from domination, but an impulse of radical vulnerability? What would we turn to if we did not cling to power? Would we recognise and comprehend that difference as an opening? Expansive. Limitless. Extremities. Revelations. A space to meditatively confront and embrace our socially limited imagination? Would we become more aware of our sensibilities … feel a multitude of sentiments; feel, as the late poet Toni Cade Bambara asserts, that 'the revolution begins with the self… in the self'. Deference. Humility. Surrender. Grace. Can these sentiments be reflected? What reflects them?
An Equitable Human Assertion is a site-specific rasanblaj. Variations of the primary materials in this work are found all over the world, including in Australia. The Kwi – made from the kalbas or calabash tree (Lagenaria siceraria) – are the simple, sacred and profane holder of rasanblaj. They are known for their multi-functionality and significations, routinely used as containers for eating and storage, carvings, musical instruments, and as religious objects. In this rasanblaj, the Kwi have become living things—primordial beings possessing aesthetics in their myriad forms, patina, textures and vibrations. Reflected in the Kwi and other materials of this piece (e.g. cowries, indigo, ochre etc.) is the ancestral imperative in Afro-diasporic traditions and found referents in the long history of Indigenous Australian artistic expression. This work is an assertion of shared attachment to the land, and comparability in experiences of self-determination in the persistent shadow of colonialism, displacement, and fracture. This installation-performance cautiously assembles physical and sonic materials together in a movement toward wholeness and a quest for beauty in nature—despite our human tendency to denigrate the earth and each other. With their inherent force, the Kwi create space inviting possibilities for new encounters.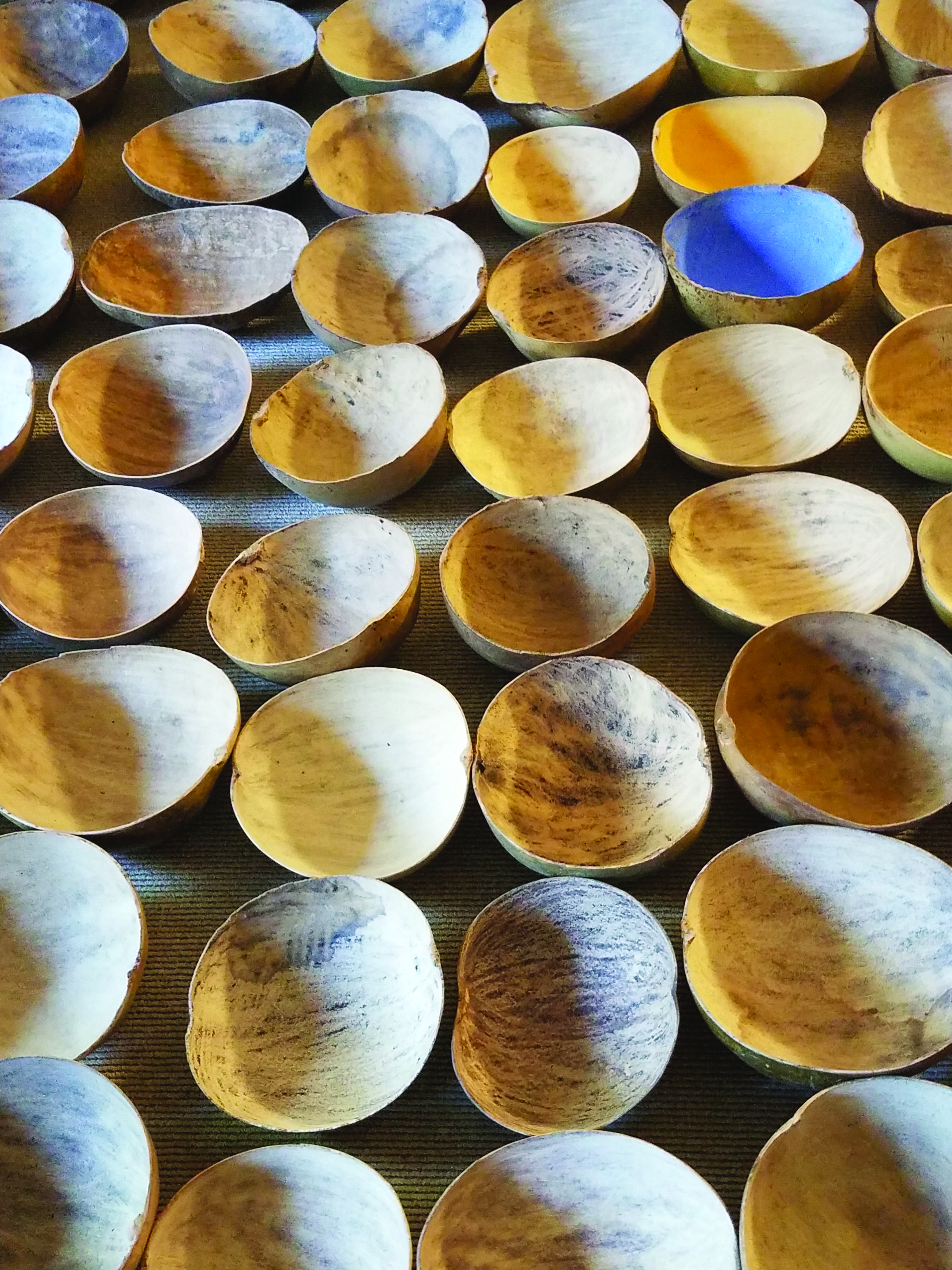 Rasablaj Blue. Photo credit: Gina Athena Ulysse
Footnotes