RASANBLAJ1, 2


Resist the impulse to translate,

pronounce it first.

Think consciously of the sound.

Let the arch of the r roll over the ah

that automatically depresses the tongue;

allow the hiss in the s

that will culminate at the front of the teeth

to entice the jaw to drop

for the an sound while un-smacking the lips

will propel the bl

surrounding the depressed ah

again ending with j.

Play with its contours.

Know what this word feels like in your mouth.

In Haitian Kreyòl.

3 syllables.

Ra—San—Blaj.

n. assembly, compilation, enlisting, regrouping (of ideas, things, people, spirits). For example,

fè yon rasanblaj: do a gathering, a ceremony, a protest.3



1. This site-specific project was commissioned for the 22nd Biennale of Sydney, NIRIN. The work was activated on March 10, 2020 with a live performance held at the Museum of Contemporary Arts opening reception. The installation was exhibited in the military guard house situated on the upper-level area of Cockatoo Island. This gallery space, open to the elements, contained the works pictured here along with surround sound. This sonic component is included here, textually juxtaposed with the visual as a trail. A map without destination. One to follow. Slow don. Pivot. Refrain. Return. Provoke. Inspire. Retreat. Read. Again. Discard. Reread. Meditate. Pivot again. Slowly. Breathe. Listen. Can life exist without question? I forgot to count the beads… ECO. EPHEMERAL. FOLK. NAÏVE. OUTSIDER. PRIMITIVE. UNTRAINED. art. Categories I refuse because even the ones that sound innocent are damning. REFUS. REFUSAL. Significations of constant classification. The need to classify is always a constant. C-l-a-s-s-i-f-i-c-a-t-i-o-n. An attachment. This incessant requirement of qualifications rooted in the supreme orders of racial capitalism. Object. O-B-J-E-C-T. Consciously Object. CONSCIENTIOUS OBJECTOR. Nina Simone once ruminated, 'I'll tell you what freedom is to me, no fear … It is something to truly really feel …'.

2. Rasanblaj originates from expressive and intellectual traditions grounded in Caribbean realities that attest to the fallacy of a universal humanity given our colonial histories of extractive economies and violent encounters. Indeed, we have *always been in crisis;* from the ecological to the material, physical and spiritual. Yet, we have also survived forging different ways of being on, and with, this earth. As sociologist Mimi Sheller notes in her forthcoming book, *Island Futures: Caribbean Survival in the Anthropocene*, 'The people of the Caribbean have been surviving genocide, colonial violence, labour exploitation, cultural suppression, natural resource extraction, and environmental destruction for more than five hundred years'. Indeed, precisely because of the long *durée* of this history, Sheller argues we must 'move beyond the genre of "crisis thinking" and "ruins of coloniality" to recognise the region as a site that continues to be at the forefront of solutions to ending these coloniality of climate, demanding reparations reinstating care for the world and one another, and thereby giving the world back its future'. (2020: ?)

3. GA Ulysse, 'Introduction', *Caribbean Rasanblaj: e-misférica,*Hemispheric Institute for Performance and Politics, New York, 2017. Indeed, the dominant compulsion is to translate and render that which is unfamiliar legible. STOP. Are you aware of your impulses? Breathe. *How can I get there*? THERE: to this place….For Arundhati 'the first step towards reimagining a world gone terribly wrong would be to stop the annihilation of those who have a different imagination — an imagination that is outside of capitalism as well as communism. An imagination which has an altogether different understanding of what constitutes happiness and fulfilment. To gain this philosophical space, it is necessary to concede some physical space for survival of those who may look like the keepers of our past but who may really be the guides to our future'.
An Equitable Human Assertion4
Calabashes, cowries, herbs and spices, natural pigments, resin…
What if our point of departure in encounters with difference stemmed not from domination, but an impulse of radical vulnerability? What would we turn to if we did not cling to power? Would we recognise and comprehend that difference as an opening? Expansive. Limitless. Extremities. Revelations. A space to meditatively confront and embrace our socially limited imagination? Would we become more aware of our sensibilities … feel a multitude of sentiments; feel, as the late poet Toni Cade Bambara asserts, that 'the revolution begins with the self… in the self'. Deference. Humility. Surrender. Grace. Can these sentiments be reflected? What reflects them?
An Equitable Human Assertion is a site-specific rasanblaj. Variations of the primary materials in this work are found all over the world, including in Australia. The Kwi – made from the kalbas or calabash tree (Lagenaria siceraria) – are the simple, sacred and profane holder of rasanblaj. They are known for their multi-functionality and significations, routinely used as containers for eating and storage, carvings, musical instruments, and as religious objects. In this rasanblaj, the Kwi have become living things—primordial beings possessing aesthetics in their myriad forms, patina, textures and vibrations. Reflected in the Kwi and other materials of this piece (e.g. cowries, indigo, ochre etc.) is the ancestral imperative in Afro-diasporic traditions and found referents in the long history of Indigenous Australian artistic expression. This work is an assertion of shared attachment to the land, and comparability in experiences of self-determination in the persistent shadow of colonialism, displacement, and fracture. This installation-performance cautiously assembles physical and sonic materials together in a movement toward wholeness and a quest for beauty in nature—despite our human tendency to denigrate the earth and each other. With their inherent force, the Kwi create space inviting possibilities for new encounters.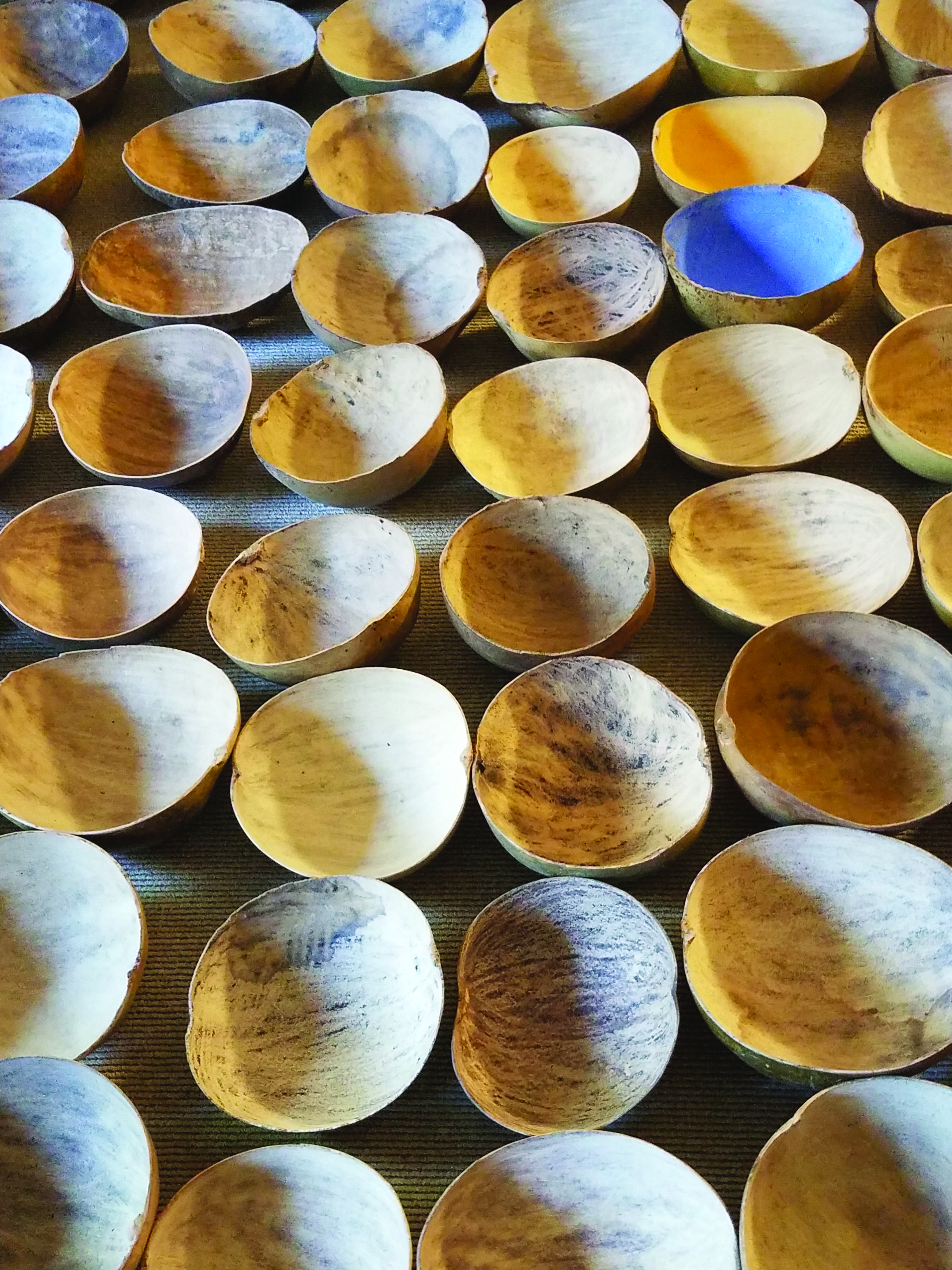 Rasablaj Blue. Photo credit: Gina Athena Ulysse
---
The title of this Biennale work stems from my all-time favourite line from Leadbelly Signs an Autograph, a poem by the late, great Amiri Baraka in Black Magic (1967). The verse reads: 'Build me an equitable human assertion. One that looks like a jungle, or one that looks like the cities of the West. But I provide the stock. The beasts and myths'.↩