Edition 27
—
Selective Perceptions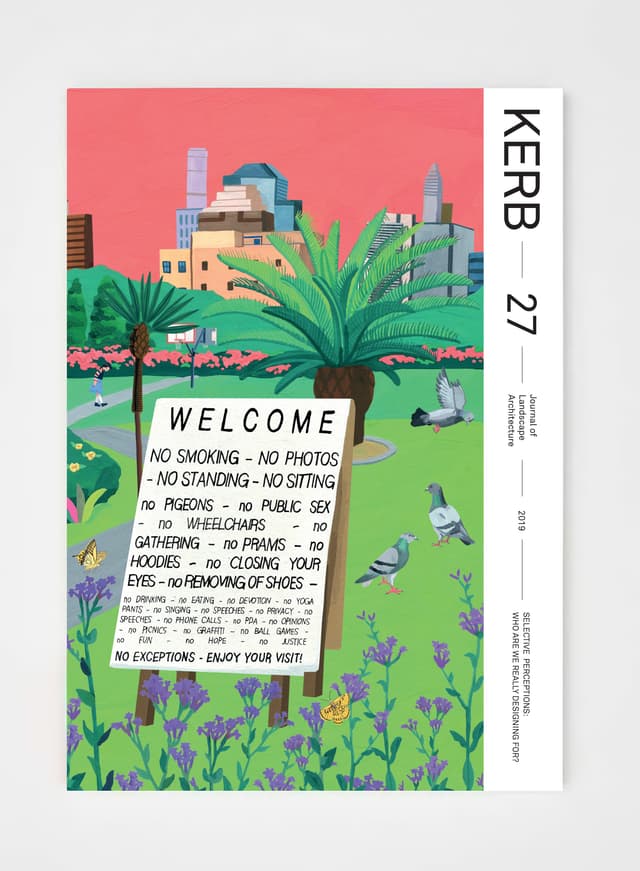 Contemporary society is approaching a reckoning of identity, to which the designers of our cities will have to respond. Kerb 27 addresses issues of inequity in our built and social environments, and asks the question: who are we really designing for?
Designers all have the capacity and responsibility to contribute to, and be aware of, the world they are designing. Structural inequity promotes exclusion on the basis of a wide spectrum of humanity's diverse characteristics, from race to class, gender to age, physical ability to sexuality, and countless others. The toxic effects of this exclusion multiply throughout society.
Whose responsibility is it to make sure that public spaces are accessible to all, most especially the otherwise marginalised and dispossessed? What influence can and do designers have over the making of a democratic built environment? With contributions from Walter Hood, Claire Martin, Roberto Boettger, Simone Bliss, Charlie Clemoes and many others, this issue of Kerb examines how designers are tackling the problem of inequality through their practice.
Contents
Article
—
27
—

Benjamin Jameson,

—

Emily Sinyavker,

—

Gary Ward,

—

Reuben Chan,

—

Shanley Price
No articles from this edition are available online